CLIMATE CRISIS YOUTH IN ACTION CONFERENCE - 12 June 2021
Please use our A-Z INDEX to navigate this site or see HOME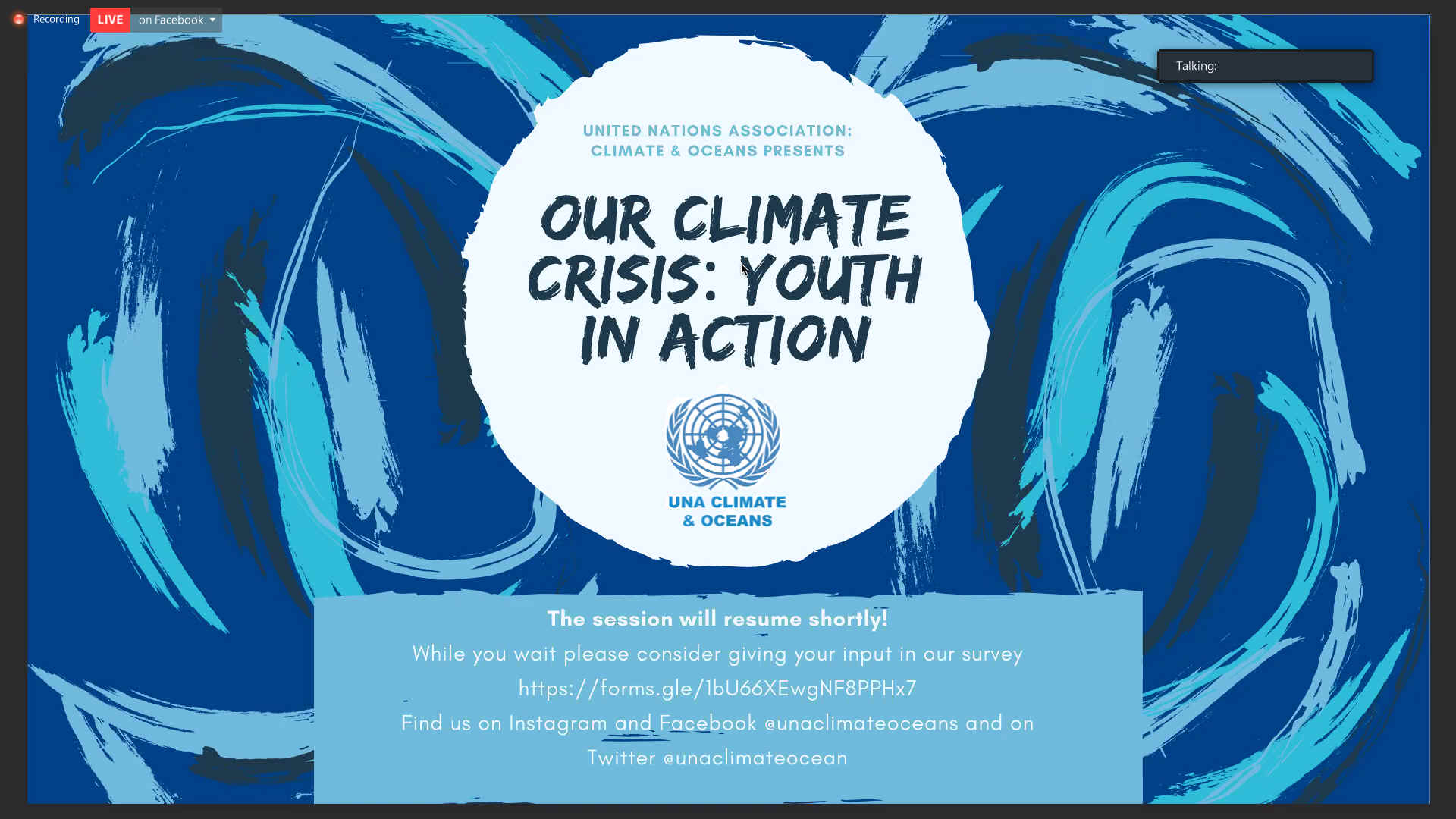 ART & MUSIC - One way of getting our message across to world leaders is with visual and audible messages that stick.
In the run-up to COP-26, the UNA Climate and Oceans (UNA) 'Youth Council' organized an exciting student event addressing some of the key issues facing our planet today.

During the conference, we heard from expert speakers and those impacted by climate change issues directly, covering a range of United Nations SDG topics.

Students and young professionals from the UNA's Youth Council will be introducing speakers, leading panel discussions, and asking the questions you want answered. The event also featured inspiring displays of artwork, poetry and music in between the talks. One performance that particularly attracted us, by way of encapsulating the youth spirit, is embedded below. We hope it inspires you as much as it did us.


[left] LOVE THE OCEANS - Love the Oceans is a non-profit marine conservation organisation supporting work in Jangamo Bay, Mozambique. They are supporting the community to protect and study the diverse marine life found here, including many species of sharks, rays and the famous humpback whales. They use research, education and diving to drive action towards a more sustainable future. Their ultimate goal is to support the community in establishing a Marine Protected Area for the Inhambane Province in Mozambique, achieving higher biodiversity whilst protecting endangered species. They were recently recognised as 1 of 15 global grassroots #forcesforchange by the Duke and Duchess of Sussex and received international recognition for their work.
[middle] E EXTREME - Extreme E is a new electric rally series that aims to demonstrate the effects that climate change and human activity have had on our planet. At each race location, Extreme E partners with a local organisation to create legacy projects to address a climate issue in that area. The teams feature world-class drivers such as Jenson Button (former F1 world champion), Sebastian Loeb (9 time world rally champion) and a team created by Lewis Hamilton (7 time F1 world champion). Presented by Louisa Tholstrup. www.extreme-e.com
[right] CASCADE - Cascade is an app that harnesses the power of individual action to create a more sustainable world. By combining climate research with behavioural insights, they are offering users an engaging app experience making sustainability accessible and fun. The app idea was synthesized by a number of students at the University of Cambridge, but the development team now consists of people from all over the world. The app is still in the development stage and is set to be released in 2022. Presented by Tse Uweja
In all walks of life and all over the planet, people are trying to make a difference. The collective is that international policies and thinking is changing. It may seem slow, but by doing what you are doing, no matter that it seems an impossible task, you can move mountains.
As well as providing food for thought, the Youth Council aim for attendees to actively get involved with UNA Climate and Oceans, and with the global youth climate movement. They introduced us to their International Youth Ambassadors, and gathered the views of attendees, which which they will then collate into a report which is to be sent to COP-26 leaders and the UN Secretary General, António Guterres.
UNA C&O Youth Council hope that by sharing these reports to those with global platforms, they are ensuring that the people have their voices heard by those in power. You will also have the opportunity to be part of a global network of young people organized by the UNA Climate and Oceans Youth Council.