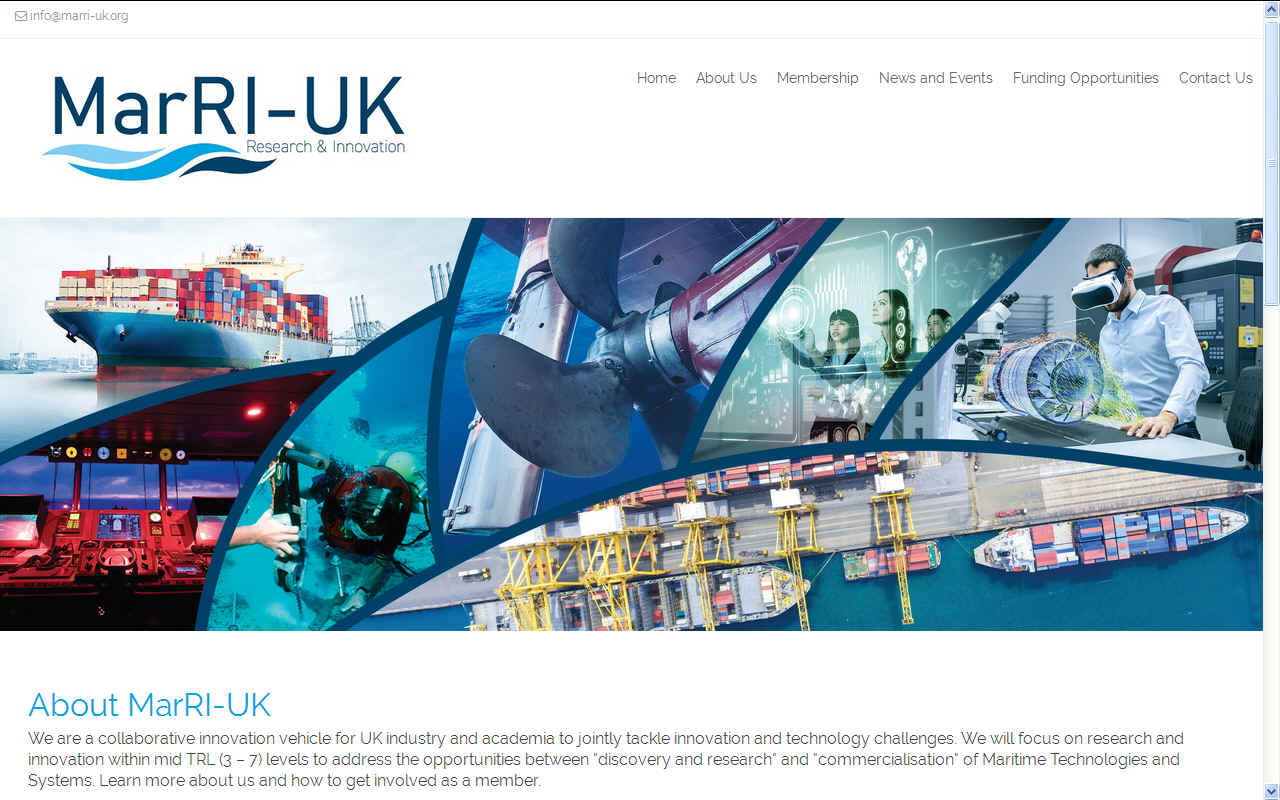 MariRI is a collaborative innovation vehicle for UK industry and academia to jointly tackle innovation and technology challenges. They focus on research and innovation within mid TRL (3 – 7) levels to address the opportunities between "discovery and research" and "commercialisation" of Maritime Technologies and Systems.
MarRI-UK is an open tier-level membership organisation, for UK companies and researchers.


The UK's Maritime industry (shipping, ports, manufacturing and business services) offers a wide range of world class maritime systems, services and support. It underpins the UK's international trade and power as an island nation. It supports over 957,000 jobs, creating productivity of £78k per person (50% higher than UK average), £37.4bn Gross Value Added and £12bn exports.

The global maritime market will be worth $3trillion by 2030, offering huge opportunities, but these require innovation supported by academic research. For example, the Autonomous vessels market will grow by 15% annually. The Intelligent Systems global market is growing to $42bn. Clean Maritime, reducing emissions to meet IMO regulations, is likely to add around £16bn to economic opportunities.
Funding Opportunities

Expression of Interest competition now open for Department for Transport (DfT) funding, for industrial research to find innovative ways to reduce maritime emissions and to promote the development of technology innovation in UK maritime.

Summary

In January 2019 the government published Maritime 2050, a strategic vision for the future of the maritime sector. The Clean Maritime Plan is the Environment Route Map of Maritime 2050, setting out in more detail how Government sees the UK's transition to a future of zero emission shipping.
To support this, the Department for Transport (DfT), is launching an innovation call of £1M called the Clean Maritime Innovation Call. The call will fund technology, process innovations or services within mid TRL (TRL 3-7) that offer significant improvements to systems, timings, processes or technology for clean maritime services and operations. £1M is available for competition.
This call is administered by MarRI-UK.
This is an Expression of interest (EOI) competition. There are 2 (two) stages and the whole process takes at least 7 (seven) months.
Expression of Interest (EoI): opens for 6 weeks and is reviewed by MarRI-UK only. Full proposal: invite only, if successful in the expression of interest stage.

The competition closes at midday 12pm UK time on the deadline stated.

Scope

Your proposal

Your project must be in mid TRL (3-7) stages.

Your project must demonstrate good value for money for the UK and potential impact for UK market once further development has been completed.

Your project must have Innovative aspects (e.g. ground-breaking objectives, new technology, process innovations or services), this includes products being used in innovative ways, outside of their original intended use.

Your project must have the potential to reduce greenhouse gases and/or air quality pollutant emissions from the maritime industry. Preference will be given to projects that show the strongest potential to reduce emissions of greenhouse gases and/or air quality pollutant emissions from the maritime sector.

Your project must have the potential to deliver on the priorities set out in the Clean Maritime Plan and/or Maritime 2050 Zero Emission shipping sub-theme.

Your project must have the potential to offer significant improvements to systems, timings, processes or technology for clean maritime operations.

Only projects which score well against the following criteria will receive funding from MarRI-UK:

1. Strategic fit with Maritime 2050.

2. Value for money for the UK and potential impact of the exploitation of your idea once further development has been completed.

3. Project deliverables such as time, cost and quality (including risks).

4. Viability given timescales, deliverables, and resources.

5. Environmental impact, i.e. the amount of carbon adjustments/air quality improvements your project will achieve compare to current technology
This is an Expression of Interest (EoI) competition. Successful applicants will be invited to submit full proposal (Stage 2). A decision to proceed to Stage 2 will depend on the outcomes from this EoI. Changes from your EoI to proposal will be monitored. Unjustified major change is not acceptable.
Topics

Topics include but are not limited to:

- Electrification
- Innovative energy efficiency measures
- Alternative propulsion
- Hazard and safety assessment of new fuels
- Energy systems
- Alternate fuels

Grant size

Funding awards up to £250K, with a mix of funding levels to support a range of readiness levels.
In the event of there being many proposals that meet the criteria then we have a preference to fund a majority of smaller projects requiring less funding to have a wide range of initiatives supported, and only a few funded at the higher level.

In the event that there are not many proposals submitted, then a greater proportion of proposals could be funded at the higher level, or the money could be reserved for a further bidding round.

Projects we will not fund

We are not funding projects that:

- Are unrelated to reduction of Maritime emissions to air (GHGs and/or air quality pollutants).

- Are approaching market readiness

- Offer only incremental updates to existing abatement options

Eligibility

State aid

- This funding cannot be used for rescue aid.

- It is the applicants' responsibility to be State Aid compliant and demonstrate their bid falls under the General Block Exemption Rules (GBER) for State Aid compliance. Please take legal advice if unsure.

Lead organisation

To lead a project or work alone your organisation must:

- be a UK based business of any size to lead a research project

- be a UK based business of any size, an academic organisation, or a research and technology organisation (RTO) to lead a capital investment project

- Carry out your maritime research or technology development project work in the UK

- Intend to exploit the results from or in the UK

- This is open to single business as well as consortiums.

Funding

Bids should be match funded, as set out below:

Match funding could be in the form of an identical cash injection from the bidder, to match the amount provided by us, or it could in the form of staffing resource to work on the project.
It could also be to fund some of the project, in the case of smaller business, but receive the bulk of the funding from us.
In any case a business case for how they will match fund, or why they cannot, should be submitted alongside the bid.

To comply with State Aid, a strict requirement will be that we will fund:
- 70% for a small business, with 30% from the bidder,
- 60% for a medium-sized business, 40% from bidder,
- 50% for a large business, 50% from bidder.
Business size definition:

The definition of small and medium-sized enterprises (SME) used by MarRI-UK is set out in the European Commission Recommendation of 6 May 2003.

A large business in this context means any enterprise which is not an SME.

Research organisations can be funded 100% by the call.

Business funding is capped at 70%.

For fundamental research, it will be possible to receive 100% funding.

Cap at 30% allocation of total fund for Fundamental Research/ start up ideas to incentivise later stage research which has already been developed from an initial proof of concept.

Dates

Stage 1

- 29 July: Expression of Interest (EoI) submission open
- 8 September: EoI submission closed
- 9 September – 20 October: EoI assessment
Stage 2
- 21 October: Invitation to submit full proposal release, submission for full proposal open
- 15 December: Submission for full proposal closed
- 16 December – 23 February (adding 2 weeks off for Christmas and new year): Proposal assessment
- 24 February 2020: Funding award announcement

How to Apply
CREATE ACCOUNT & LODGE EXPRESSIONS HERE
ADD TO LODGED EXPRESSIONS HERE
You can save your application and return to change and/or complete your application as much as you want before the deadline.

The application consists of two sections. The first section provides background for the reviewers and are not scored.
Project information

Application questions

There are word limitations to answer each questions.

If you have any questions on the application process, please email: info@marri-uk.org
CONTACTS
Phone: 0141 574 5271
Email: info@marri-uk.org
Small and medium-sized enterprises (SMEs) are defined in the EU recommendation 2003/361.

The main factors determining whether an enterprise is an SME are:

1. staff headcount
2. either turnover or balance sheet total

These ceilings apply to the figures for individual firms only. A firm that is part of a larger group may need to include staff headcount/turnover/balance sheet data from that group too.

What help can SMEs get?

There are 2 broad types of potential benefit for an enterprise if it meets the criteria:

eligibility for support under many EU business-support programmes targeted specifically at SMEs: research funding, competitiveness and innovation funding and similar national support programmes that could otherwise be banned as unfair government support ("state aid" – see block exemption regulation).
fewer requirements or reduced fees for EU administrative compliance.

Monitoring of the implementation of the SME definition

The Commission regularly monitors the implementation of the SME definition. The independent evaluation study carried out in 2012 concluded that there is no need for a major revision of the SME Definition. The final report of the study (1 MB) recommended to clarify the application of certain rules within the existing Recommendation by providing guidance or by updating the 2005 edition of the SME Definition User Guide.
The COSME programme also invests through the COSME Equity Facility for Growth (EFG). The EFG is dedicated to
investments in risk capital funds that provide venture capital and mezzanine finance to expansion and growth stage SMEs, in particular those operating across borders.
The COSME programme builds on the success of the Competitiveness and Innovation Framework Programme (CIP)
(2007-2013) which helped to mobilise almost €25 billion of loans and venture capital to almost 400 000 SMEs in Europe.
The Investment Plan for Europe, the so-called Juncker Plan, is one of the European Commission's top priorities. It focuses on boosting investments to create jobs and growth by making smarter use of new and existing financial resources, removing obstacles to investment and providing visibility and technical assistance to investment projects.
The European Fund for Strategic Investments (EFSI) is the central pillar of the Juncker Plan. It provides a first loss guarantee, allowing the EIB to invest in more, often riskier, projects. The EFSI is showing concrete results. The projects and agreements approved for financing under the EFSI so far are expected to mobilise more than €371.2 billion in investments and support over 856 000 SMEs across all 28 Member States.