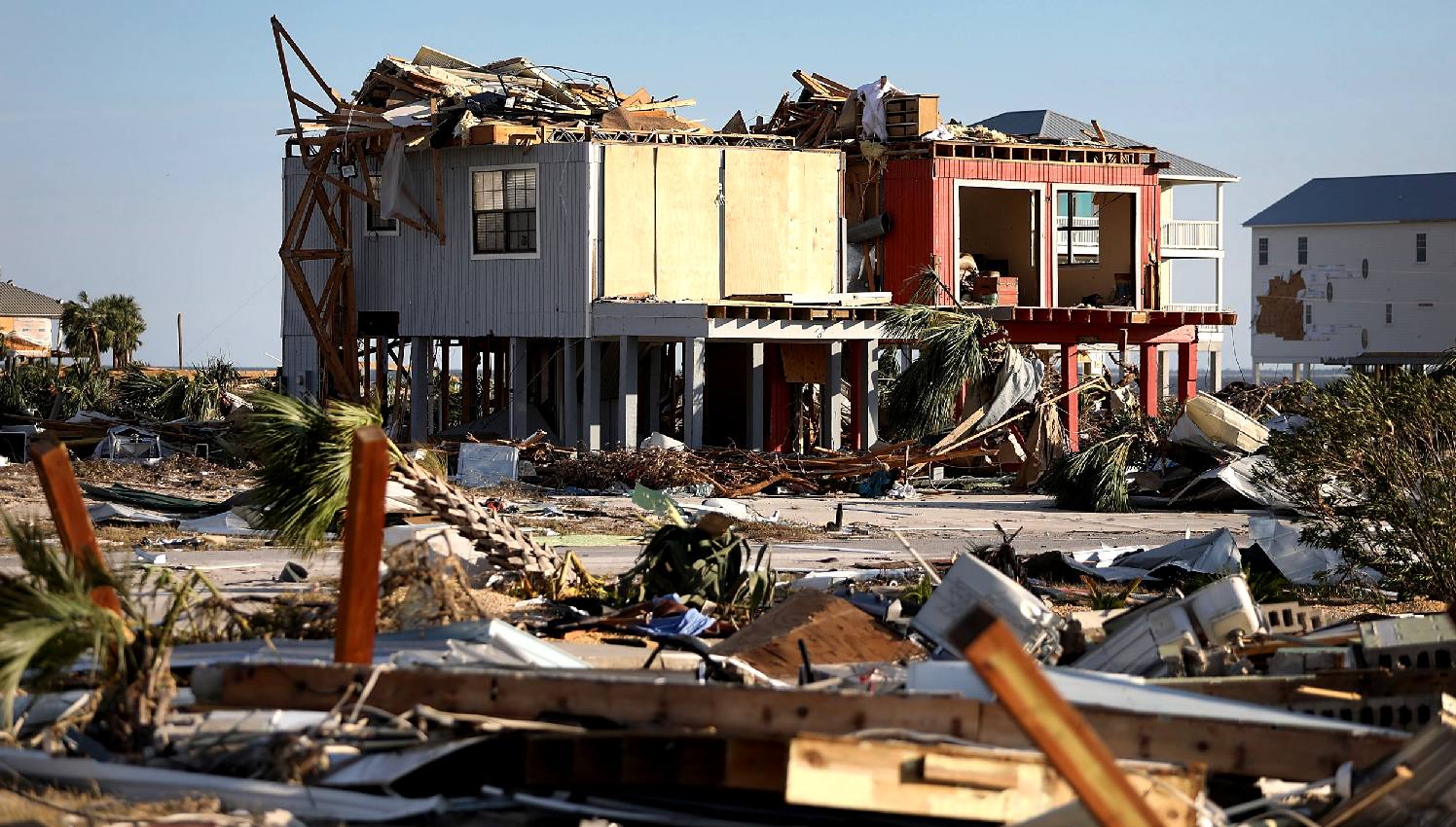 HURRICANE MICHAEL - Hundreds of homes are destroyed by strong winds, with global warming likely to increase the ferocity and regularity of events. Homes will not be safe, so watch your mortgage and insurance premiums cover you - or you'll lose your life savings and be homeless because your leaders were stupid enough to allow climate change to go unchecked, in the process bullshitting you - and you were dumb enough to fall for it! Next time vote in some common sense and action.
Seven billion people use a phenomenal amount of planet earth's natural resources and requires a complex system of commerce to distribute it to where most people live, given that over half the global population is urban.

The challenges of climate change are not always obvious in your daily lives, but they will begin to shape much of what you do in the next 50 years - should you live that long. Your children will!

The biggest challenges of climate change might not be the effects on your health and well being that heat waves, droughts or cyclones cause, but that uncertainty makes it harder for our systems of commerce, production and governance.
To survive, we need to better understand the challenges.
STORMS - We like a bit of rough weather, but when it means making people homeless and vulnerable, we take a different view.
FOOD FOR THOUGHT - FIVE HEADINGS TO PONDER

1 extremes — the physical consequences of acute weather that cause extreme events such as storms, floods and droughts.

2 physical — the physical consequences that are systematic such as consistently warmer or cooler or wetter or drier weather that allows whole seasons shift such as the short rains in east Africa that make traditional cropping unworkable.

3 psychology — the psychological challenges of coping with the physical effects and the uncertainty of what may or may not happen, causing stagnation.

4 economics — the economic costs of paying for the direct impacts of climate change effects and the loss of economic activity, mitigation and adaptation.

5 politics — the political challenge of finding policies that can address all the above challenges.

All these challenges are an extra cost to a reducing public purse. The social consequences are many. The solutions will affect where and how we live and for how long.

For example, the sea level will rise and there will be copious floods. This will lead to decisions as to either moving away from flood prone areas and low-lying coasts or staying and dealing with the stress of flooding. This might involve building houses on stilts and hybrid transport such as amphibious vehicles.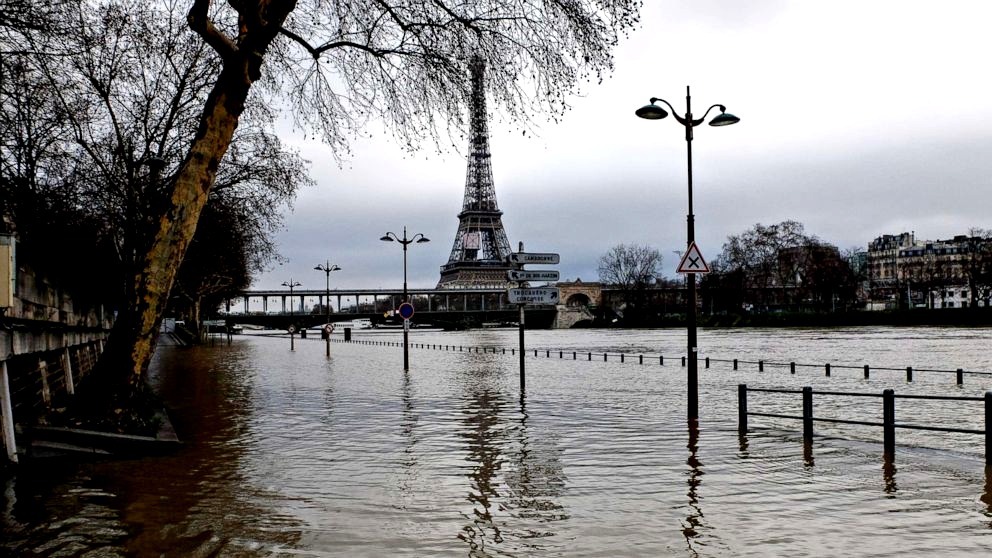 WATERLOGGED - When one of the world's icons is flooded, it makes you wonder what is going on.
Each time there is a climate change effect the:

- physicality will be felt
- psychology will trigger emotions and alter how we think
- social consequences will emerge
- economics will be felt in our wallets and purses
- politics will expose those elected
PARKING PROBLEMS - Now where did I park that car. Floating cars make it difficult to remember where you left it. But then when you find it, you can't drive it anyway.
There is considerable uncertainty around the details of climate change. What we do know is that our climate is changing and this means:

- local and global weather patterns will be different to those in the past

- oceans will change their volume and pattern of circulation with implications for sea level and the weather on coasts and islands
- glaciers will retreat and advance
- snow cover will change its extent and persistence with direct effects on meltwater and the earth's albedo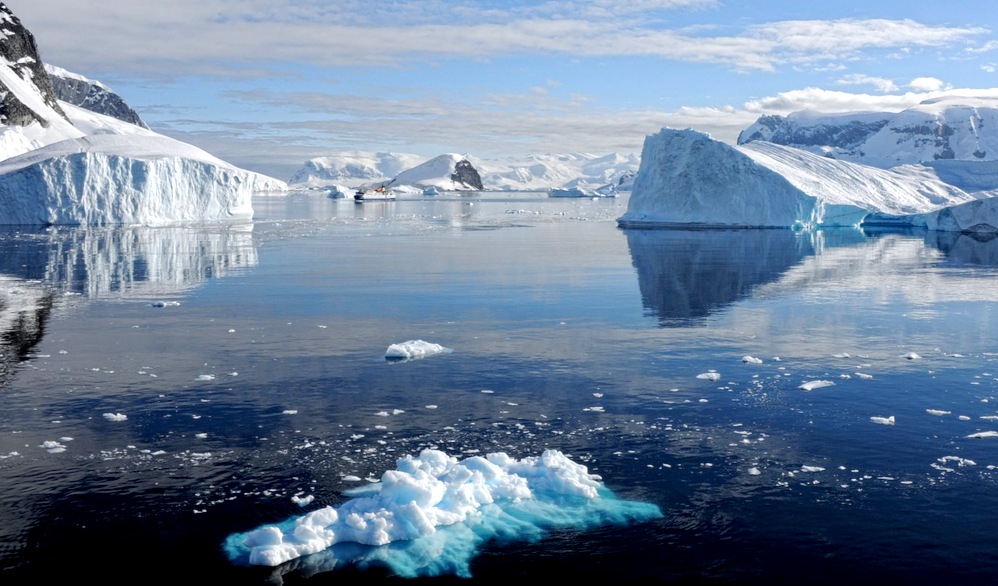 ALBEDO GOING - Together with Greenland's ice sheet, Antarctica's ice sheet contains more than 99% of the world's fresh water. Most of that water is frozen in masses of ice and snow that can be up to 10,000 feet thick. But as human activity sends more greenhouse gases into the atmosphere, the oceans absorb 93% of the excess heat those gases trap. The warm air and water is what's causing ice sheets and glaciers to melt at unprecedented rates.

This rapid ice loss contributes to rising sea-levels. In a new study, scientists found that the Thwaites Glacier in western Antarctica will likely hit a point of irreversible melting, after which it will lose all of its ice over a period of 150 years. If the entire Thwaites Glacier were to melt, it would raise sea levels by at least 1.5 feet. Some experts warn that the collapse of the Thwaites Glacier could trigger a chain reaction of melting that would raise sea levels by another 8 feet.
For the plants and animals that make up the natural systems there will be one of three outcomes:

- organisms will survive or prosper under the new conditions
- organisms will move away if inhospitable conditions persist
- organisms will die out where new conditions cannot support life and relocation is not an option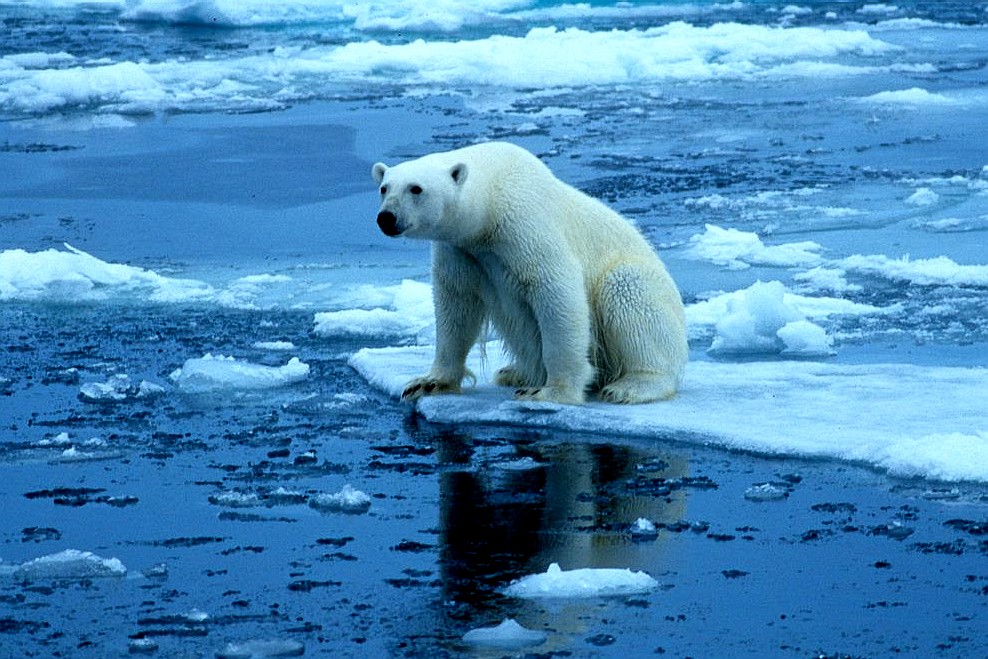 ARCTIC WINTER - Where has all the ice gone and why is it so hot. Open the door someone.
If world weather changes with rapid intensity such that survival and relocation are compromised for more than a handful of organisms, the capability of nature to function as we know it is conflicted.

Planet earth might then foster more extreme species that we might consider alien at the moment.

Importantly, we rely on the present natural balance for our agriculture and fisheries to support 7 billion people - and the population is growing - meaning more pressure on reducing resources.

More extreme species might feed on the weaker to wipe them out, leaving a hostile planet with aggressive life forms such as with the dinosaurs - that cannot survive for long having eaten just about everything the moves.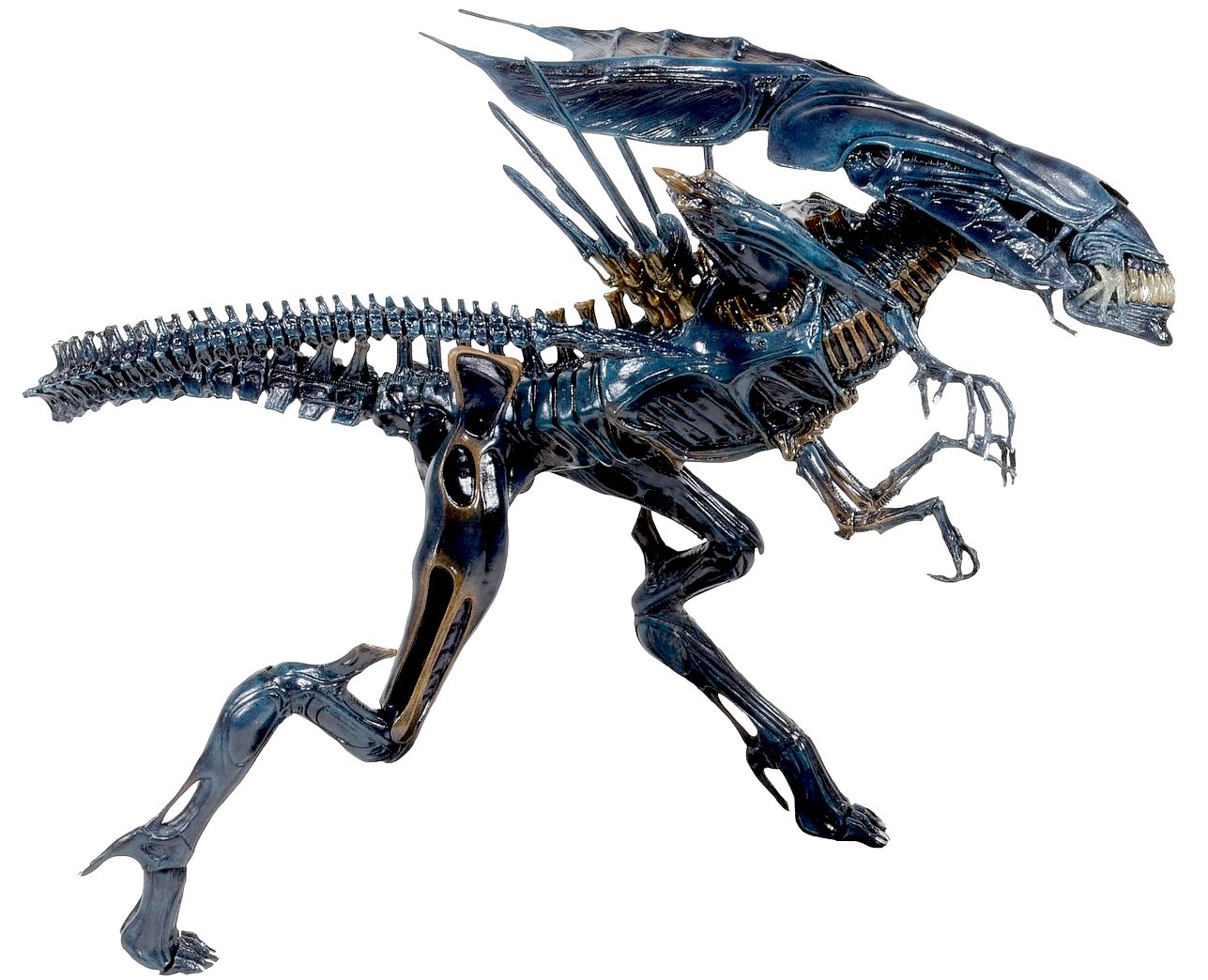 SIX (SUGGESTED) STEPS TOWARD A COOLER PLANET
1. TRANSPORT: Phase out polluting vehicles. Governments aim to end the sale of new petrol, and diesel vehicles by 2040 but have no infrastructure plan to support such ambition. Such infrastructure should exceed the performance of fossil fuel filling stations, prolong EV battery life and provide power grids with a measure of load leveling. Any such system should seek to obviate the provision of millions of fast charge points where implementation could prove to be a logistical nightmare. This may involve international agreement as to energy storage format and statute to steer car makers to collaborate in part, in a world driven by competition for sales.
Marine transport can be carbon neutral given the right policies, with phased transition in specific stages such as not to unduly penalize present investment in LNG shipping and other recent MARPOL compliant IC powered vessels. Future cargo and cruise vessels should be at least in part powered by renewable energy, on the road to zero carbon, making allowances for technology catch-up.
Air travel powered by kerosene should attract hefty mitigation offset, where low carbon alternatives should be encouraged.
2. RENEWABLES: Renewable energy should replace carbon-based fuels (coal, oil and gas) in our electricity for homes, factories, heating and transport. Coal and nuclear power plants should be phased out.
3. HOUSING: On site micro or macro generation is the best option, starting with new build homes that are both affordable and sustainable by design to replace crumbling housing stocks. Encourage building in timber to provide carbon lock from a renewable natural resource. Make sustainable housing a permitted development, taking out the need to apply for planning permission, will cut out council blockers (such as absurd legal costs) from the decision making process, to stamp out empire building agendas. Plans for a standard, or certified as acceptable design, would eliminate professional fees in the interests of low carbon building.
4. AGRICULTURE: We need to grow more trees to absorb carbon emissions from a growing population, air travel, and to build new homes. We should promote reductions in food waste and eating of foods that use less energy to produce. Educating children on these matters in schools and via campaigns such as no meat Mondays, should be part of ordinary study.
5. INDUSTRY: Factories should be aiming for solar heating and onsite renewable energy generation. EV parking and even service facilities should be part of new industrial estates as part of any building permissions.
6. POLITICS: - National governing bodies need to adopt rules to eliminate administrative wastages, to include scaling down spending on war machines, increasing spend on educating the public and supporting sustainable social policies that mesh with other cultures. This includes fostering policies and making funds available to close links in the technology chain to make up for lost time. Kleptocratic empire building must cease in the search for natural equilibrium.