WORLD PROTESTS - 19 SEPT 2019
Please use our A-Z INDEX to navigate this site where page links may lead to other sites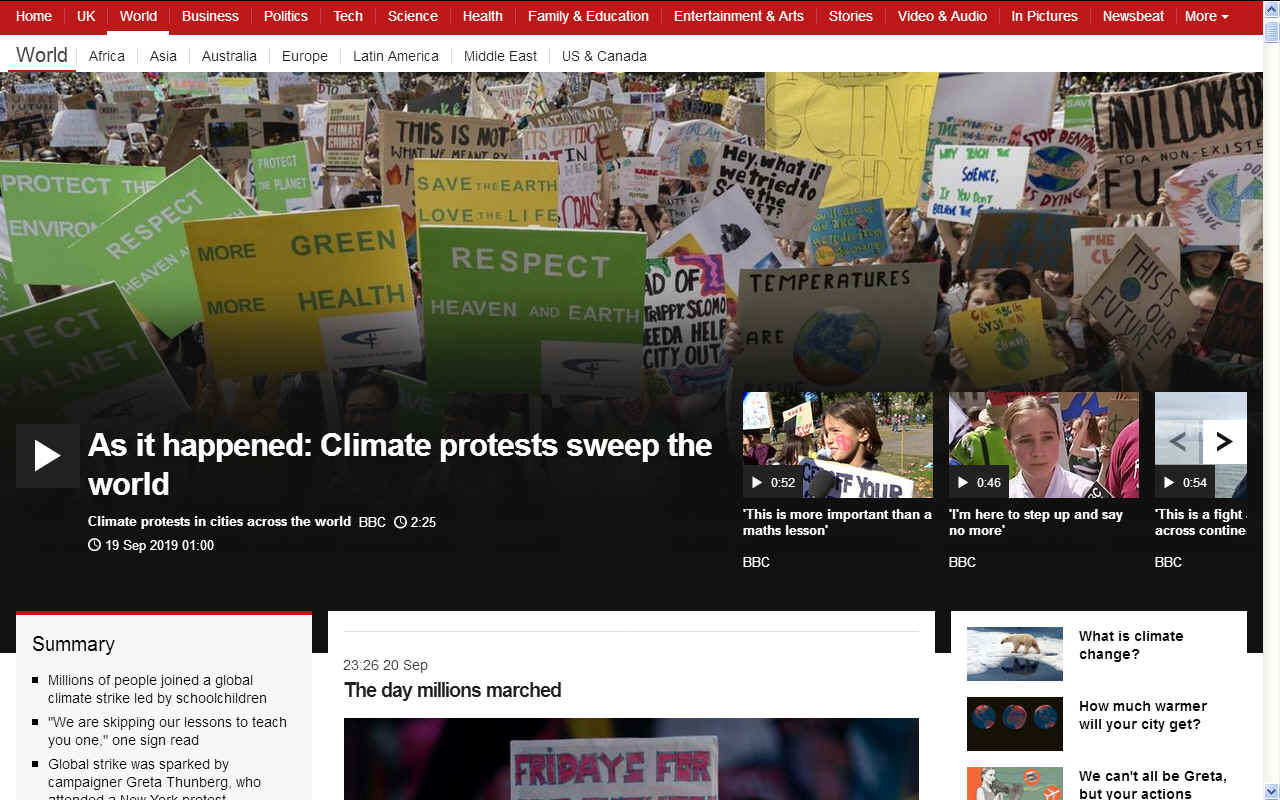 UNBELIEVABLE - As if anyone could be in any doubt, the whole world wants action on climate change. The strength of feeling is resonating around the world demanding that world leaders start doing something.


THE KOREAN TIMES 21 SEPTEMBER 2019 - 'I want a future': Global youth protests urge climate action

Young people afraid for their futures protested around the globe Friday to implore world leaders to tackle climate change, turning out by the hundreds of thousands to insist that the warming world can't wait any longer.

Marches, rallies and demonstrations were held from Canberra to Kabul and Cape Town to New York. More than 100,000 turned out in Berlin.

Days before a U.N. climate summit of world leaders, the ''Global Climate Strike'' events were as small as two dozen activists in Seoul using LED flashlights to send Morse code messages and as large as mass demonstrations in Australia that organizers estimated were the country's largest since the Iraq War began in 2003.

''You are leading the way in the urgent race against the climate crisis,'' U.N. Secretary General Antonio Guterres wrote in a message to the young protesters on Twitter. ''You are on the right side of history. Keep pushing us to do the right thing.''

In New York, where public schools excused students with parental permission, tens of thousands of mostly young people marched through lower Manhattan, briefly shutting down some streets.

''Sorry I can't clean my room, I'm busy saving the world,'' one protester's sign declared.

Thousands marched to the Capitol in Washington, including 15-year-old high school sophomore A.J. Conermann.

''Basically, our earth is dying, and if we don't do something about it, we die,'' Conermann said.

Thousands packed the streets around Seattle's City Hall, following a march where tech workers from Amazon and Google joined students demanding an end to fossil fuel use.

Demonstrations came in smaller cities as well. Washington Gov. Jay Inslee, who recently abandoned his climate-focused presidential run, addressed a rally in Spokane, and a crowd chanted inside the rotunda of the state Capitol in Madison, Wisconsin.

''It's really unbelievable and really startling to know how little time we have to reverse the damage,'' said Maris Maslow-Shields, a high school student from Santa Rosa, California, who marched in San Francisco.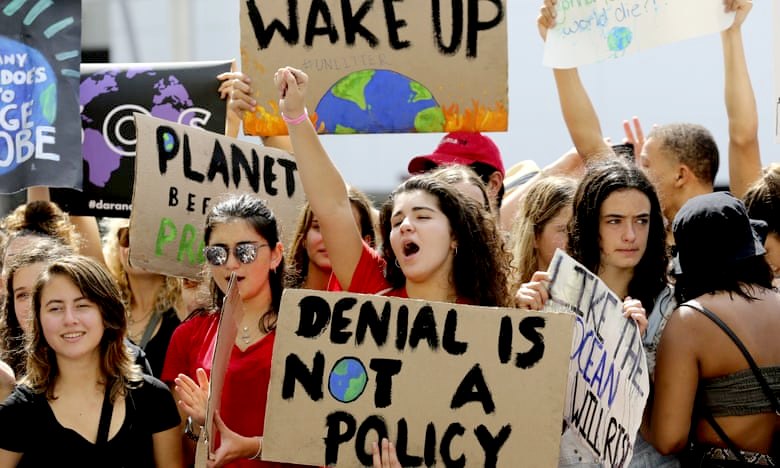 In Paris, teenagers and kids as young as 10 traded classrooms for the streets. Marie-Lou Sahai, 15, skipped school because ''the only way to make people listen is to protest.''

The demonstrations were partly inspired by the activism of Swedish teenager Greta Thunberg, who has staged weekly ''Fridays for Future'' demonstrations for a year, urging world leaders to step up efforts against climate change.

''It's such a victory,'' Thunberg told The Associated Press in an interview in New York. ''I would never have predicted or believed that this was going to happen, and so fast ― only in 15 months.''

Thunberg spoke at a rally later Friday and was expected to participate in a U.N. Youth Climate Summit, Saturday, and speak at the U.N. Climate Action Summit with global leaders, Monday.

''They have this opportunity to do something, and they should take that,'' she said. ''And otherwise, they should feel ashamed.''

The world has warmed about 1 degree Celsius (1.8 Fahrenheit) since before the Industrial Revolution, and scientists have attributed more than 90 percent of the increase to emissions of heat-trapping gases from fuel-burning and other human activity.

Scientists have warned that global warming will subject Earth to rising seas and more heat waves, droughts, storms and flooding, some of which have already manifested themselves.

Climate change has made record-breaking heat twice as likely as record-setting cold temperatures over the past two decades in the contiguous U.S., according to National Oceanic and Atmospheric Administration data.

Nations around the world recommitted at a 2015 summit in Paris to hold warming to less than 2 degrees Celsius (3.6 Fahrenheit) more than pre-industrial-era levels by the end of this century, and they added a more ambitious goal of limiting the increase to 1.5 C (2.7F).

But U.S. President Donald Trump subsequently announced that he would withdraw the U.S. from the agreement, which he said benefited other nations at the expense of American businesses and taxpayers.

Trump called global warming a ''hoax'' before becoming president. He has since said he's ''not denying climate change'' but is not convinced it's man-made or permanent.

New York protester Pearl Seidman, 13, hoped the demonstration would tell the Trump administration ''that if they can't be adults, we're going to be adults. Because someone needs to do it.'' At least one Trump supporter waved a large ''Trump 2020'' flag as the demonstrators marched in Manhattan.

In Florida, high school students shouted ''Miami is under attack'' in Miami Beach, where some worried about losing their homes to rising water. On the West Coast, student-led protests drew in some Google and Amazon employees.

Amazon, which ships more than 10 billion items a year, vowed Thursday to cut its use of fossil fuels, and Google CEO Sundar Pichai told the Financial Times in a story published Friday that eliminating the company's carbon emissions by 2030 did not seem ''unreasonable.''

Friday's demonstrations started in Australia, where organizers estimated 300,000 protesters marched in 110 towns and cities, including Sydney and the national capital Canberra. Demonstrators called for their country, the world's largest exporter of coal and liquid natural gas, to take more drastic action to reduce greenhouse gas emissions.

Acting Prime Minister Michael McCormack ― filling in while Prime Minister Scott Morrison was on a state visit to the United States ― said Australia was already taking action to cut emissions. McCormack called the climate rallies ''a disruption'' that should have been held on a weekend to avoid inconveniences.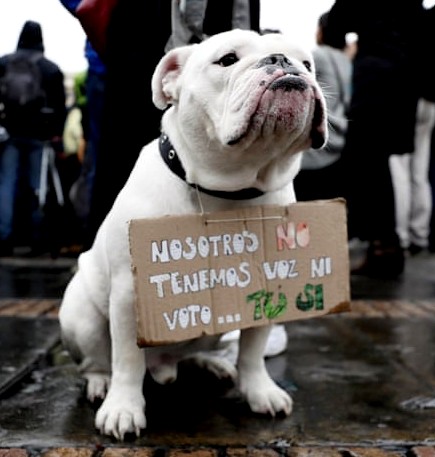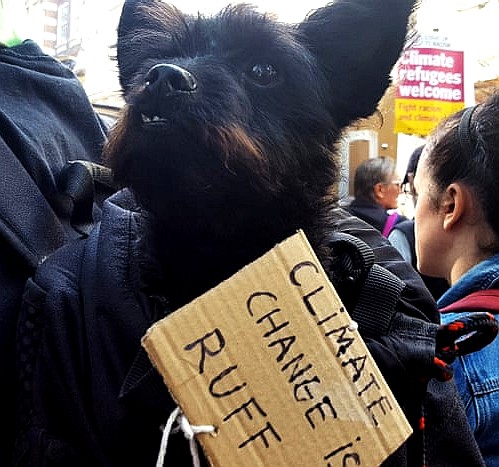 Many middle schools in largely coal-reliant Poland gave students the day off so they could participate in the rallies in Warsaw and other cities. President Andrzej Duda joined school students picking up trash in a forest. German police said more than 100,000 people gathered in front of Berlin's landmark Brandenburg Gate, near where Chancellor Angela Merkel's Cabinet thrashed out the final details of a 54 billion euro ($60 billion) plan to curb Germany's greenhouse gas emissions.

Thousands of schoolchildren and their adult supporters demonstrated in London outside the British Parliament. The British government said it endorsed the protesters' message but did not condone skipping school ― a stance that did not sit well with some of the young protesters.

''If politicians were taking the appropriate action we need and had been taking this action a long time ago when it was recognized the world was changing in a negative way, then I would not have to be skipping school,'' said Jessica Ahmed, a 16-year-old London student.

In Helsinki, the Finnish capital, a man dressed as Santa Claus stood outside parliament holding a sign: ''My house is on fire, my reindeer can't swim.''

Smaller protests took place in Asia, including in Japan, South Korea, the Philippines, Hong Kong and India. In the Afghan capital of Kabul, an armored personnel carrier was deployed to protect about 100 young people as they marched, led by a group of several young women carrying a banner emblazoned with ''Fridays for Future.''

''We know war can kill a group of people,'' said Fardeen Barakzai, one of the organizers. ''The problem in Afghanistan is our leaders are fighting for power, but the real power is in nature.''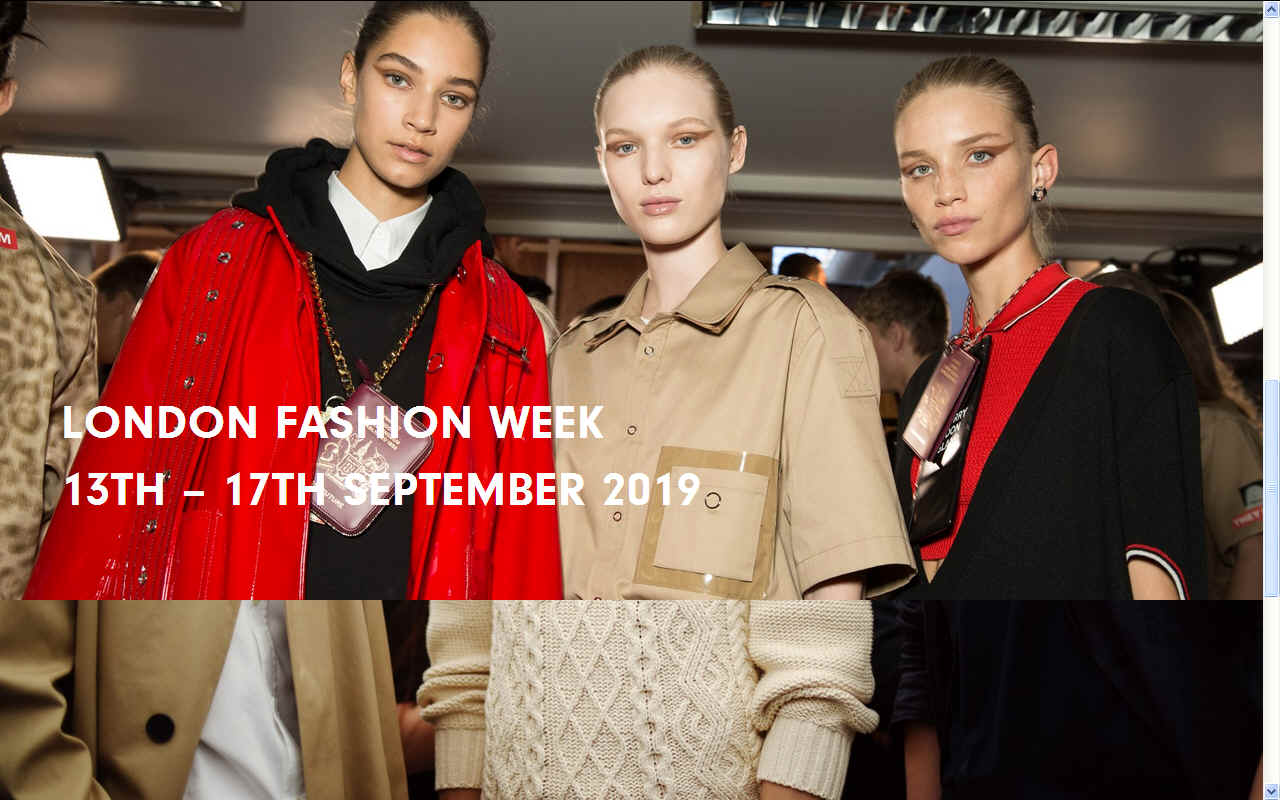 BRITISH FASHION COUNCIL - The G20 should consider promoting natural fibres such as cotton and wool as being sustainable, where synthetic plastics add to micro fibre and micro plastic river waste. On the other hand, we have to clothe the world and synthetics add to longevity and make clothes cheaper to produce.
BBC NEWS 20 SEPTEMBER 2019 - THE DAY MILLIONS MARCHED

Summary

- Millions of people joined a global climate strike led by schoolchildren
- "We are skipping our lessons to teach you one," one sign read
- Global strike was sparked by campaigner Greta Thunberg, who attended a New York protest
- Our live coverage marked the protests from Pacific islands to LA

That wraps up our coverage of the wave of climate protests that began in Australia this morning before spreading across nearly every corner of the globe to the US West Coast.

Millions of young people marched on Friday, from handfuls of demonstrators on Pacific islands to mass rallies in cities like Melbourne, Mumbai, Berlin and New York.

The Swedish teenage activist Greta Thunberg, who inspired the protests, called it the biggest climate strike in history.
23:04 20 Sep - 'My dad woke me up and said it's massive'
Here's Greta Thunberg speaking to the BBC earlier today about how flabbergasted she was by the scale of the protests.
22:58 20 Sep - Climate strike swirls around US Congress BBC News, Washington DC

Climate protesters have also marched across Washington DC to the US Capitol building.

One of them was Michael Pion, who was wearing a Trump 'Make America Great Again' hat. He told the BBC: "I thought it would be funny to see how people would react to the MAGA hat and to be honest with you ultimately it wasnít that exciting."

He thinks it's important to pay attention to climate change so "we can avoid the ĎMad Maxí scenario that will unfold if we donít take some kind of action about it relatively soon".

Another protester, Jane Mahon (below left), said: "Iím here today because Iím scared."

Her friend, Leah Woods (right), said: "I think people should be here just to simply fight for our humanity."

22:53 20 Sep - 'United we are unstoppable'

Greta Thunberg continued her speech by talking about the UN climate action summit, which takes place in New York next week. Leaders from around the world will be attending the event.

"The eyes of the world will be on them," she said. "We will make them hear us."

"We are doing this to wake the leaders up. We are doing this to get them to act. We deserve a safe future and we demand a safe future. Is that really too much to ask?

"Right now we are the ones who are making a difference. If no one else will take action then we will.

"It should not be that way. We should not be the ones who are fighting for the future. And yet, here we are."

She finished her speech on a powerful and optimistic note.

"Together and united we are unstoppable.

"This is what people power looks like. We will rise to the challenge. We will hold those most responsible for this crisis accountable and we will make the world leaders act.

"We can and we will.

"And if you belong to that small group of people who feel threatened by us then we have some very bad news for you.

"Because this is only the beginning. Change is coming, whether they like it or not."
22:45 20 Sep - Greta Thunberg scolds world leaders

Greta Thunberg's speech continues... here are some of the highlights:

"We are striking today in over 150 countries on all continents, including Antarctica.

"We are not in school today and this time we are not alone - we have some adults who are not at work today either. And why? Because this is an emergency. Our house is on fire. And it's not just the young people's house. We all live here, it affects all of us. We will not just stand aside and watch.

"We are united behind the science and we will do everything in our power to stop this crisis from getting worse, even if that means skipping school or work, because this is more important.

"Why should we study for a future that is being taken away from us? That is being stolen for profit?

"Some people are saying we should study to become climate scientists and politicians, but by then it will be too late. We need to do this now.

"Pay attention to the facts.

"Nowhere have I found anyone in power who wants to tell it like it is. They leave that burden to us - us teenagers, us children."
22:42 20 Sep - 'Sorry for our president'

The young climate protesters who gathered in Avenida Paulista, in S"o Paulo, on Friday night had a common target: President Jair Bolsonaro.

Almost everyone who went on stage criticised the presidentís environmental policies. Some kids talked about what individuals can do to reduce their footprint on the environment.

Vinicius Guimar"es, who is 18, held a sign in English saying, "Sorry for our president".

He told the BBC he has no links to political parties and that his motivation to show up today was the survival of his generation.

ďWe have to fight now because weíre the ones who will have to deal with the consequences," he said.

Here was President Bolsonaro's recent comments on the Amazon fires, which UN officials have described as extremely concerning for the planetís natural life support systems,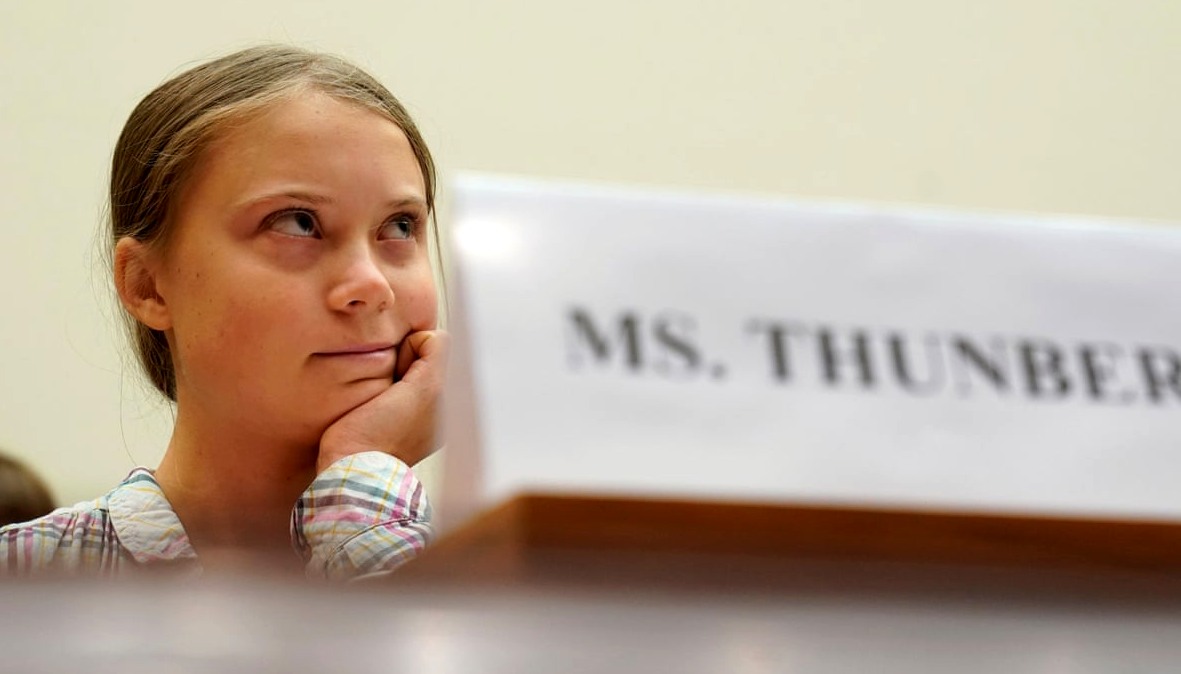 22:30 20 Sep - Thunberg cheered in New York

Greta Thunberg arrived to cheers from the audience in lower Manhattan and was introduced as "the nicest, kindest most humble person".

"Around the world today about four million have been striking and we are still counting," she said.

"This is the biggest climate strike ever in history and we all should be so proud of ourselves because we have done this together."

She read out the numbers of people at each protest, including:

Australia 350,000 people

London 100,000

Berlin 270,000

Dublin 25,000

A medic was sent to help someone in the audience, which has put her speech on hold for now.


22:23 20 Sep - Greta Thunberg, the teen climate heroine

Hundreds of thousands of people - and counting - have been taking to the streets today to call for action on the climate crisis.

The catalyst for this huge movement has been Greta Thunberg - the Swedish teenager who inspired a global climate movement with her solitary protests last year. She is expected to address the crowds in New York imminently.

Now she's arguably the most famous climate activist in the world, with a nomination for the Nobel Peace Prize and a gig addressing the UN's climate summit next week.

Her sharp words to US Congress on Thursday also helped cement her icon status. "Sorry, you're not trying hard enough" - a message echoed by many frustrated teenagers, and adults, around the world.

Now, after a day of international demonstrations, she's getting ready to address a rally outside the UN's headquarters.
22:08 20 Sep - So what are the adults doing?

You might be tempted to ask, like the student protesters above, where are the grown-ups in the room? Why havenít any of our world leaders sorted this out?

WellÖ some of them have been trying, but it hasnít always gone smoothly.

One recent milestone was the 2015 Paris climate deal, which united all the worldís nations in a single agreement on tackling climate change.

President Donald Trump announced two years later that he would withdraw from the deal - making the US the only country in the world to reject it.

Nonetheless, the deal is still considered historic, with signatories committing to keeping temperatures below 2.0C (3.6F) above pre-industrial times.
21:54 20 Sep - Can Jeff Bezos quell Amazon climate strikers?

Employees at Amazon headquarters in Seattle are joining today's climate strike, protesting against a crisis they say their employer has contributed to.

Ahead of the global protests, the company's CEO Ė Jeff Bezos Ė outlined a climate pledge that would see Amazon become carbon neutral by 2040.

But the strikers, from the group Amazon Employees for Climate Justice (AECJ), say this isn't enough.

The group says Mr Bezos' plan to offset Amazon's carbon emissions by 2040 stops far short of its demand that the company stop using fossil fuels entirely within the next decade.

AECJ also called for Mr Bezos to stop donating to politicians and lobbying groups that deny the existence or the extent of the climate crisis, and to stop working with oil and gas companies on the exploration of fossil fuel reserves.

The Amazon CEO has not agreed to these two demands.

Rebecca Sheppard is a senior product manager at Amazon and a member of AECJ.

She told BBC Newsday earlier today: "Itís absolutely a victory, but itís not everything that we asked for. We actually don't want to be carbon neutral, we want to be zero emissions. We don't want to rely on carbon offsets."
21:32 20 Sep - Thousands in New York City

A rallying chant spread through the crowd: "What do we want? Climate Justice! When do want it? Now!"

Foley Square overflowed, and a number of streets had to be closed due to the sheer number of those marching. There's a range of people, with many school students marching in groups.

While there was excitement among those marching, there was also a sense that this collective action must spur some change.

For many of the younger activists the stakes are too high to ignore.

"Itís either we miss school or we miss life," says 17-year-old Phillip Austin.
21:22 20 Sep - 'I was elected to be president of Pittsburgh not Paris'

Since the early days of his administration, President Trump has made it clear his priority is to create jobs and reduce Americaís dependence on foreign oil by expanding drilling. He also hasnít been shy about his scepticism toward renewable and alternative energy sources. ďWeíve lost four years.Ē But activists and Obama-era officials insist itís possible to be both pro-environment and pro-business. Nat Keohane worked in the Obama administration to help create many of the rules Trump is now rescinding. He says the lack of American leadership on climate change has not only impacted the US but the rest of the world as well.

21:00 20 Sep - What is President Trump's environmental record?

As protesters march across the US to demand action on climate change, the BBCís Cut Through the Noise examines President Donald Trump's record on the environment and climate change.

His administration has rolled back more than 80 environmental rules and protections.

20:36 20 Sep - Protest moves north next week - Jessica Murphy, BBC News, Toronto

In Canada, a handful of cities are participating in the global marches on Friday, including Whitehorse, Calgary and Saint John.

But the main event will take place at a Montreal march next week, on 27 September.

Youth climate campaigner Greta Thunberg is also expected to attend that one.

The largest school board in the province of Quebec - the Commission scolaire de Montrťal - will give its students the day off.

A number of universities and colleges have also cancelled at least some classes for that day.

The event will take place during Canada's federal election campaign, where climate change is among the top policy issues for voters.

20:24 20 Sep - Toddlers joining Brazil march

In Brazilís largest city, S"o Paulo, a large number of young kids are expected to attend the climate march starting at 20:00 GMT Ė and some of them are toddlers.

The recent fires in the Amazon have raised environmental awareness in the country, and some parents are concerned about how to explain their concerns to small children without worrying them.

"They are very young, so we didnít tell them everything [about the recent climate debates]. But we are taking them to the march," said Mariana Bombonato about her daughter Manuela, two, and the other children at the parental nursery her daughter attends. They will all be at the march later on Friday.

"We told the children that everyone would wear special T-shirts today to show their concern for the planet, and I bought Manuela a book about planet Earth. We've been talking about ways to protect the environment, and when we shower she says, 'we canít stay long because the water belongs to the planet.'"

Flora Monteiro, another mother from the group, says her son Bento, who turns three in two months' time, hasnít fully understood the events planned for this Friday, "but he knows itís a move to take care of the nature and the trees".

"More than the environmental cause itself, Iím happy to show him that he can mobilise for whatever he believes in and have an active voice," says Monteiro.
20:09 20 Sep - Roundup: demands for climate justice heard around the world

Millions took to the streets today to demand government action on climate change.
19:43 20 Sep - 'They are going to inherit the mess we've created'

BBC News, New York City

Thousands have gathered in Foley Square for a march that will end in Battery City Park.

The school district has given the cityís 1.1 million school children permission to skip school to take part in the dayís demonstrations.

They are here to show solidarity and encourage law makers to take action and hold polluters accountable. Many parents have also accompanied their children to the march.

Sanjay Patil, who lives in Queens, brought along some of the dayís youngest protesters: his daughters Anika, six, and Reyha, who is just one.

Reyha's shirt - "I really do care. Why don't you?" - was a reference to a coat worn by US First Lady Melania Trump that sent social media into meltdown.

"We want to show solidarity with all the kids striking," Patil said. He also stressed the importance of bringing his daughters to the rally. "They are going to inherit the mess we created, so they should know that everyone should be a part of the solution."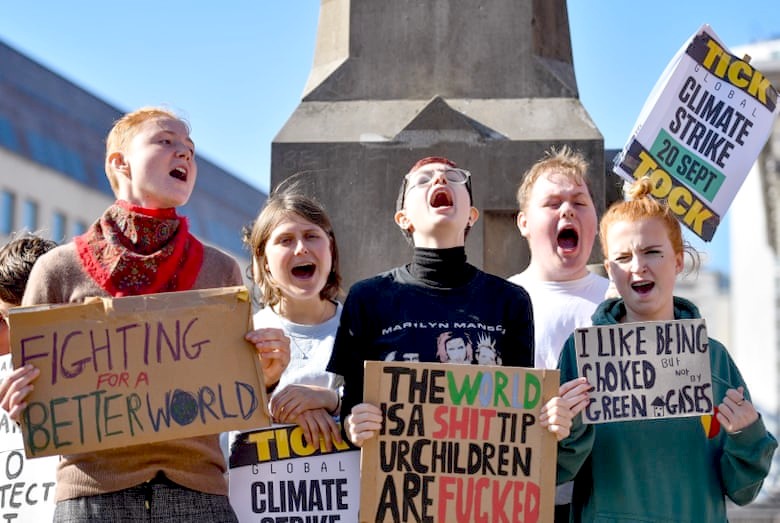 19:16 20 Sep - Climate march organiser: 'This could be a tipping point'

Meanwhile, in Scotland, thousands of young people have also taken part in school strikes to demand urgent action on climate change.

One of the young people who took to the streets was 15-year-old Dylan Hamilton who helped to organise the march through Edinburgh, where more than 20,000 protesters are thought to have shown up.

BBC Scotland News followed him as he was joined by his family, friends and thousands of others on the streets of the Scottish capital.
9:04 20 Sep - Canadian teens pledge not to have children
Earlier this week, 18-year-old climate activist Emma Lim went to Parliament Hill in Ottawa, Canada, to publicly take the "No Future Pledge" - vowing not to have children until the government takes "serious action" on climate change.

Over 2,000 Canadians have signed on to the pledge, according to the campaign's website.

"Even though I want to have children more than almost anything - what kind of a mother would I be if I brought a baby into a world where I couldnít make sure they were safe?" Ms Lim wrote on the site.

Emma-Jane Burian, 17, wrote: "I am taking this pledge because I don't want my children, or another generation to have to live in a world where their entire lives are at risk and yet there is no action".

Ms Lim, a student at McGill University in Montreal, also launched the hashtag #NoFutureNoChildren on Twitter.

The students are part of a growing movement of environmentalists and youth who say they will not be having children - or, like Prince Harry, limiting the number of children they do have - in order to help protect the planet.
18:51 20 Sep - The people fighting to help the climate

Our colleagues on the BBC World Service's Newsday programme have handily put together a series focusing on the people working hard to improve the world's climate.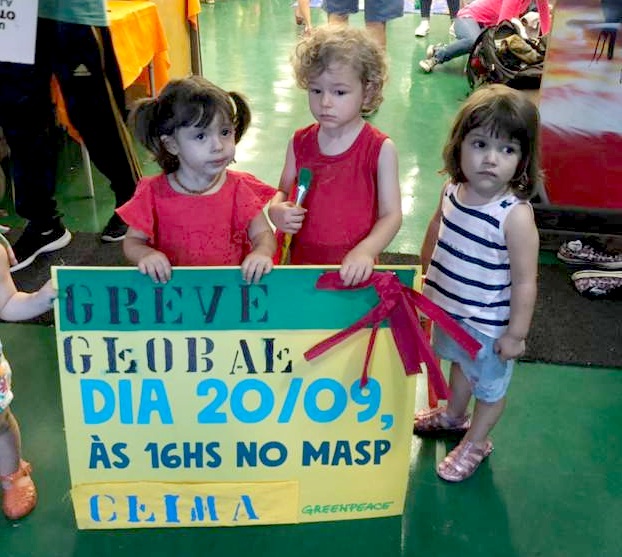 ....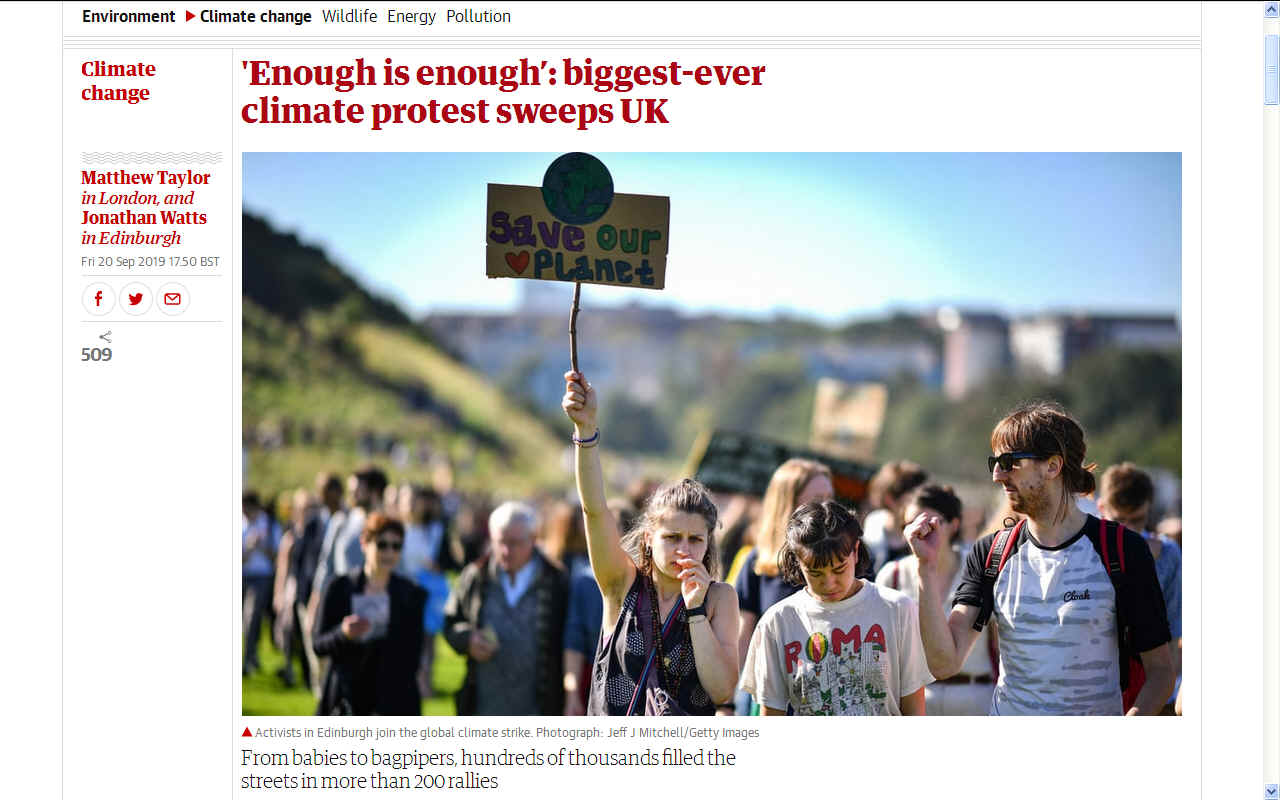 ..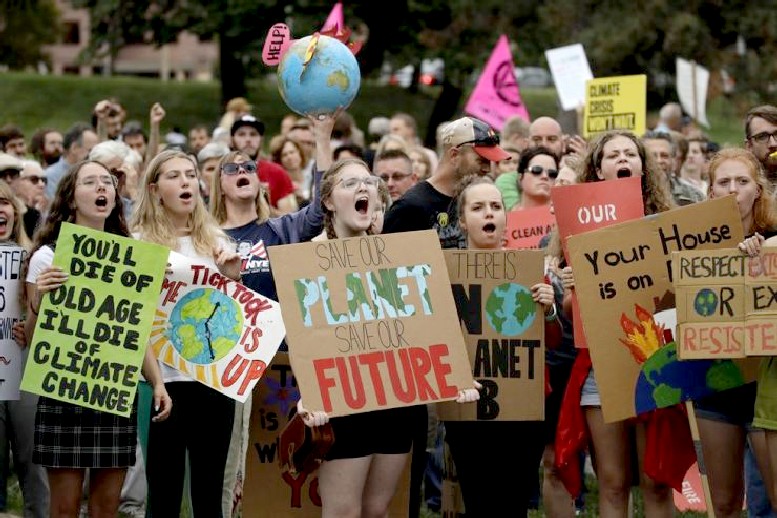 .........

.....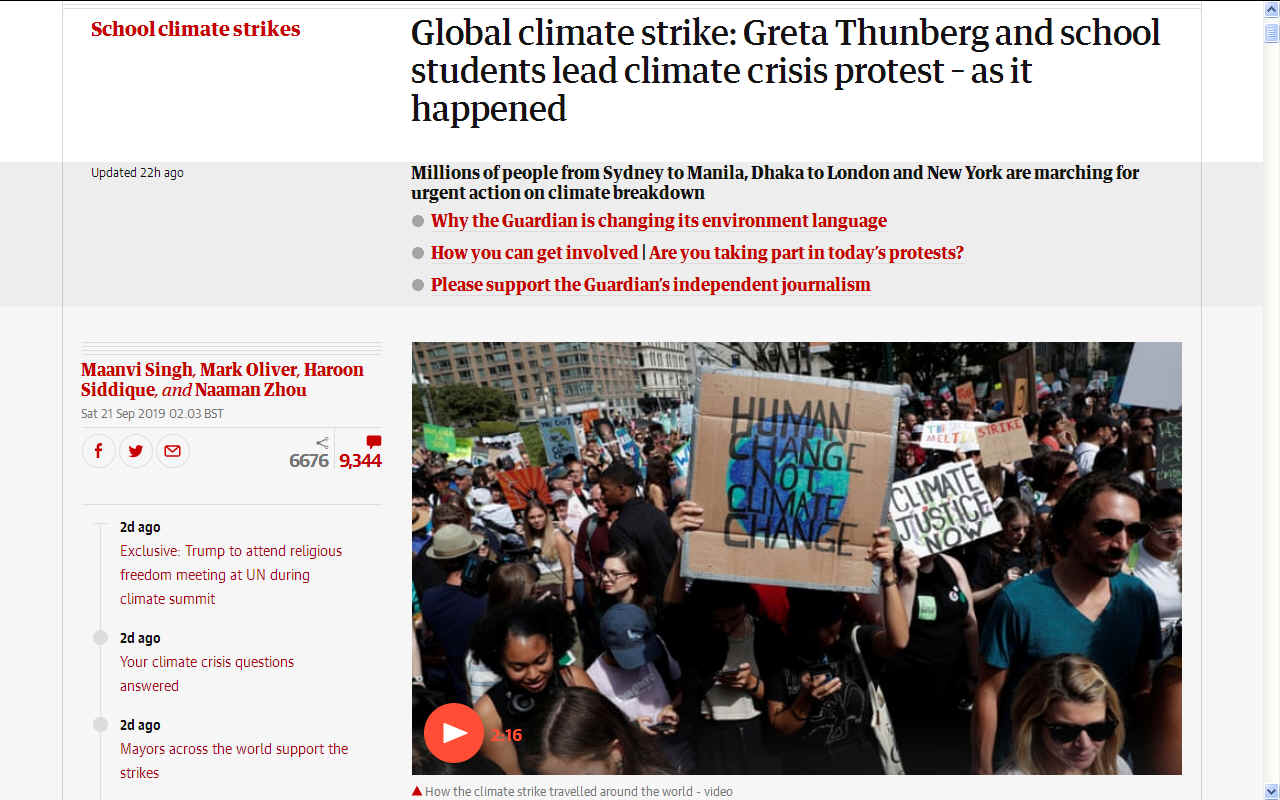 CONTACTS

....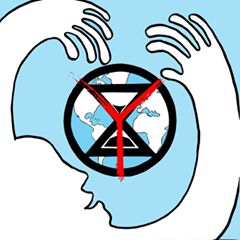 LINKS & REFERENCE
theguardianenvironment19sep20climatestrikeglobalchangeprotestsydneymelbournelondonyorknycschoolstudentprotestgretathunbergrallylivenewslatestupdates
www.koreatimes.co.kr/www/nation/2019/09/
www.scotsman.com/news/environment/thousands-hit-scottish-streets-for-largest-ever-climate-change-protests
https://www.theguardian.com/environment/2019/sep/20/enough-biggest-ever-climate-protest-uk
https://www.bbc.co.uk/news/live/world-49753710
http://www.koreatimes.co.kr/www/nation/2019/09/371_275918.html
https://www.scotsman.com/news/environment/thousands-hit-scottish-streets-for-largest-ever-climate-change-protests-1-5007754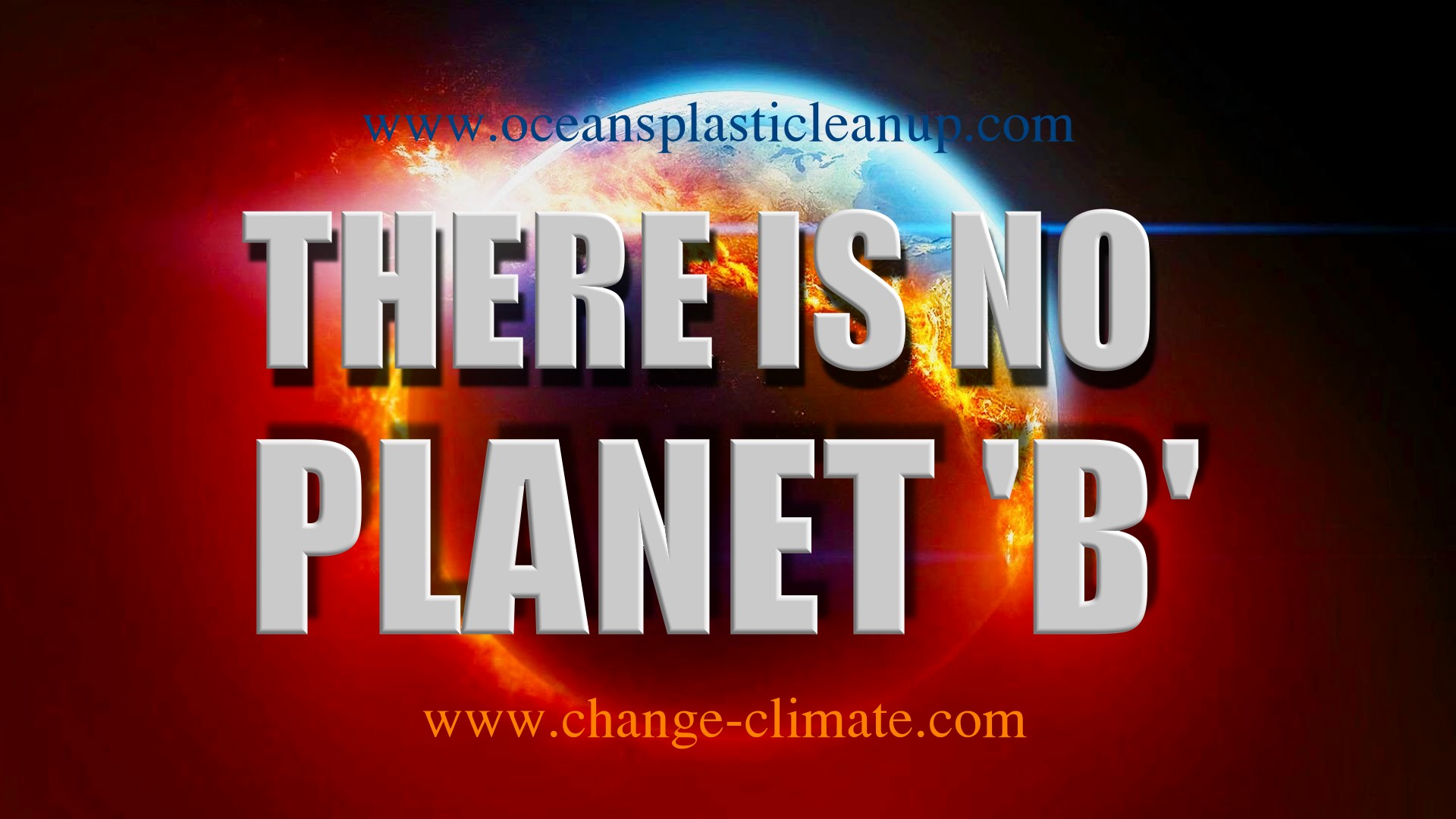 If we don't act now to curb climate change we can kiss goodbye to the planet as we know it. That is what the scientific community has been warning us about for years. Adult politicians have ignored the signs, placating vested interests for profit motives, all the while sea levels are rising, forests burning and species being wiped out forever.
This website is provided on a free basis as a public information service. copyright © Climate Change Trust 2019. Solar Studios, BN271RF, United Kingdom.