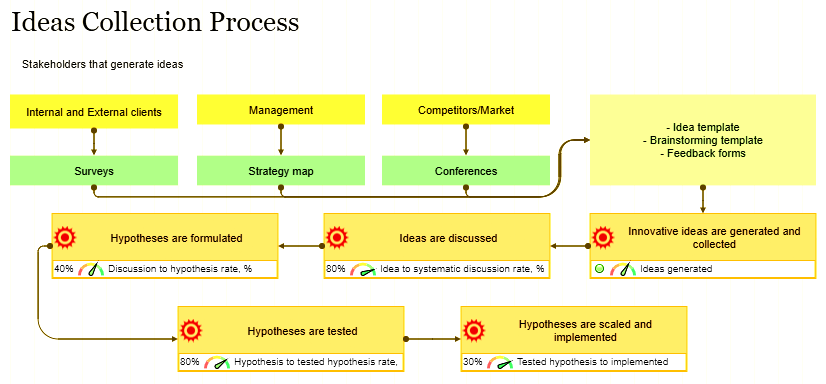 Key performance indicators (KPIs) refer to a set of quantifiable measurements used to gauge the overall long-term performance of companies, projects, marketing and sales - or just about anything that managers need to know about to function efficiently.
KPIs specifically help determine a company's strategic, financial, and operational achievements, especially compared to those of other businesses within the same sector.
KPIs can also be more anecdotal, measuring foot traffic in a store, employee retention, repeat customers, and quality of customer experience, among others.
By setting KPIs a company enables their team to make smart business decisions about the direction of all current projects, so measure a company's success versus a set of targets.
The relative business intelligence value of a set of measurements is greatly improved when the organization understands how various metrics are used and how different types of measures contribute to the picture of how the organization is performing. KPIs can be categorized into several different types:

- Inputs measure attributes (amount, type, quality) of resources consumed in processes that produce outputs
- Process or activity measures focus on how the efficiency, quality, or consistency of specific processes used to produce a specific output; they can also measure controls on that process, such as the tools/equipment used or process training
- Outputs are result measures that indicate how much work is done and define what is produced
- Outcomes focus on accomplishments or impacts, and are classified as Intermediate Outcomes, such as customer brand awareness (a direct result of, say, marketing or communications outputs), or
- End Outcomes, such as customer retention or sales (that are driven by the increased brand awareness)
Project measures answer questions about the status of deliverables and milestone progress related to important projects or initiatives.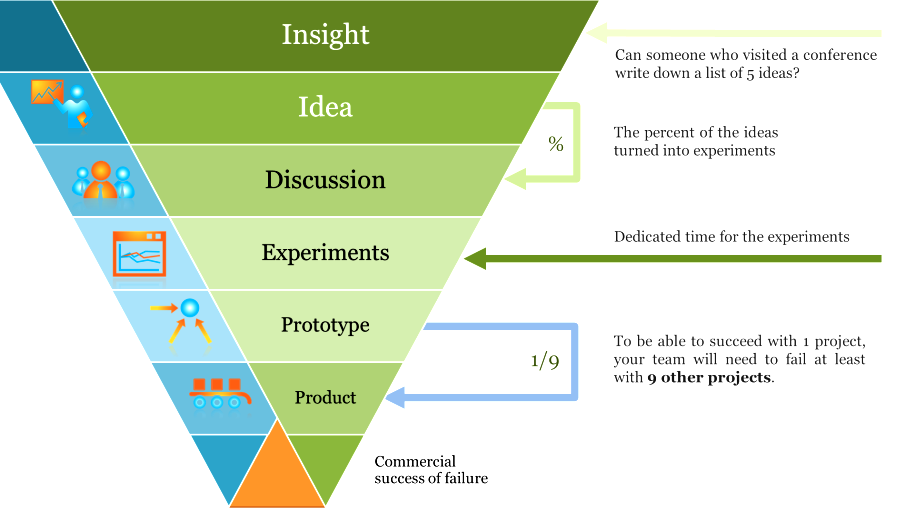 NEW PRODUCT DEVELOPMENT - INNOVATION
Innovation is recognized as one of the top three business priorities by 84% of executives.

The main challenge of innovation is not about generating ideas, but how to scale and commercialize them. This all depends on project drivers and motivation. Motivation depends on support and rewards. These need not be financial, but in a modern world, financial incentives such as removing the risk of losses from engaging in pre-commercial development, is a good place to start. Otherwise, organizations with the facilities to indulge in R&D programs, will continue without change for as long as they can.
Research & Development (R&D) KPIs are essential for tracking the performance of R&D programs.

According to the Organization for Economic Co-operation and Development, R&D refers to "creative work undertaken on a systematic basis in order to increase the stock of knowledge, including knowledge of man, culture and society, and the use of this stock of knowledge to devise new applications."
The top 3 KPIs are made of:

$ Research & development costs
# Concept approval cycle time
$ Development costs per new product
Typical KPIs used for innovation:

- R&D budget or similar budgeting metrics. We cannot expect innovations to happen unless there is a budget for it, or can we? Let's take any garage-based startup. It would certainly be easier with good funding, but things often happen without any significant investments, just determination against all odds.

- Metrics like Income from new products or Patents filed might be good to validate certain achievements, but due to their lagging nature, it's hard to use them in a short-term management loop.

- Metrics that try to quantify the leading part of innovation like Innovative ideas or Number of active projects suggest moving into the right direction ("more ideas -> "more active projects" -> "more income from innovations"), but they don't suggest a clue to how to get there. The result might be a portfolio of the "innovative projects" that satisfy the annual indicators for innovation, but that may not of itself help an organization to achieve its long term goals.

Managers can relatively easily measure the results (lagging part) of the innovations. As per the top 3 KPIs, we can measure:

* Funds spent on innovation
* The number of innovative initiatives that became successful in a certain amount of time
* Rvenue generated by innovations

What is a profile of a company that most likely won't be able to innovate? These are the companies where:

- All new ideas are rejected
- The barrier for approving new ideas is too high
- Bureaucracy dominates over common sense
- Where short-term profits are more important than long-term value for the customers
- Where employees are always busy housekeeping and simply don't have time to think creatively
- Where informational silos limit the exchange of information between departments
CLIMATE CHANGE
Scientists have been measuring temperature rise consistently for many years while politicians have been doing their best to ignore them. Even employing spin doctors to generate propaganda to confuse the electorate, playing down our changing climate.
Politicians have allowed themselves to risk the stability of planet earth as they concentrated on wealth creation and empire building. Money and property development are the enemy of
The KPIs relating to global warming are:
4. Forest fires
5. Rising sea levels
6. Flooding
The six end results are directly linked to the millionaires and billionaires who made their fortunes from exploiting the system, without any thought for balancing their abuses.
KPIs relating to stabilization will be exactly the reverse, linked to the measure taken to effect reversal, such as:
- Zero emissions transport
- Balancing the economy sustainably
- Carbon neutral housing
- Renewable energy generation
- Decarbonising agriculture
- Taxing wealth created without carbon offset
Strategic Measures track progress toward strategic goals, focusing on intended/desired results of the End Outcome or Intermediate Outcome.
When using a balanced scorecard, these strategic measures are used to evaluate progress in achieving the Strategic Objectives depicted in each of the following four balanced scorecard perspectives:
- Customer/Stakeholder
- Financial
- Internal Processes
- Organizational Capacity
An entire family of measures, including those from each of these categories, can be used to help understand how effectively strategy is being executed.
LINKS & REFERENCE
https://
SMARTNET ™ encapsulates several advanced concepts, such that one might lose sight of the features and advantages of what may be described as a comprehensive transport infrastructure system, to complement policies such as the Automated & Electric Vehicles Act 2018. Please therefore use the header and footer links on associated web pages for ease of subject navigation.
BATTERIES - COST - STANDARDIZATION - HOME - HYDROGEN - LOAD LEVELLING - PAYD - RANGE ANXIETY - RECOVERY - SERVICE STATIONS
Please use our A-Z INDEX to navigate this site