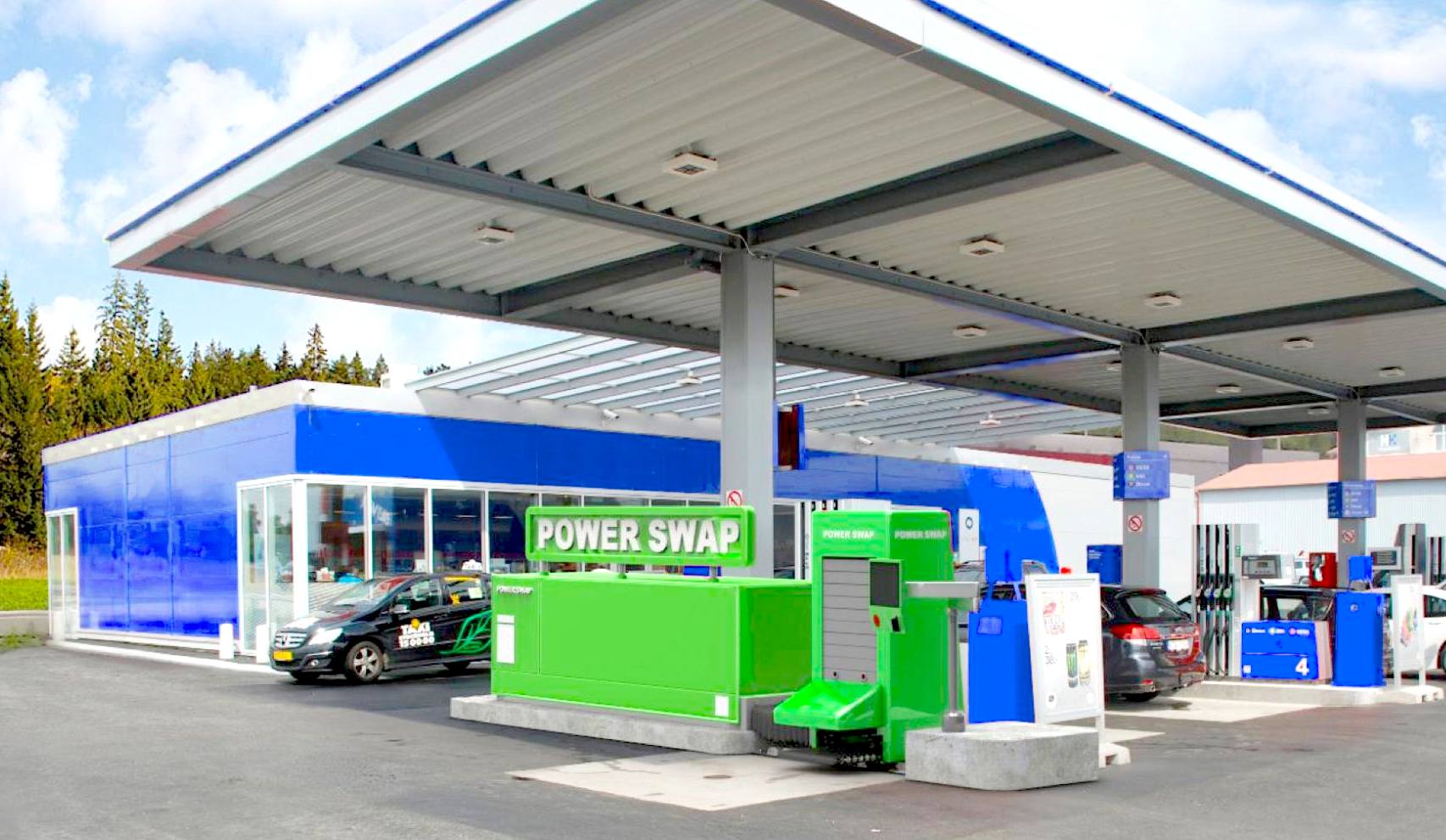 DUAL FUEL - There are a few petrol stations (especially in Europe) that offer petrol, diesel and LPG, so why not another area for electric vehicles. PowerSwap is ideal for taxis and small cars, where the conversion to existing vehicle designs is containable.
The strategy stalled with Tesla and failed with Better Place in 2013, but the Swedish company, PowerSwap AB, considers that battery swapping makes sense for EVs. They join the Chinese company, NIO and the Czech company BattSwap in the belief that cartridge exchange is the way forward.

In search for a long-term, sustainable energy solution for passenger and goods transport, the electric car is the modern alternative. However, the electric car has significant obstacles to overcome which are holding back their development, namely range anxiety and a high purchase price.
Power Swap's mission is to revolutionize the way we use electric vehicles by eliminating the problems with long charging times, high prices, limited range and inadequate "refueling" infrastructure.
Powerswap AB is a spin-off from Fuelmatics AB, the originator of completely automatic refuelling with liquid fuels. The Powerswap battery swap system offers cord-free 'refuelling' of EVs in three minutes.
Powerswap is supported by the Swedish Energy Agency, Energi-myndigheten, with the goal of enabling a more efficient infrastructure for electric vehicles. The company collaborates with Chinese battery manufacturers and OEMs.
LOW DOWN - We love the fact that this system might bolt to the underside of many production cars, we don't like what looks to be very low ground clearances, though we note that raising the suspension would go a long way to restoring the original safety specifications. Side loading limits the size of batteries to the width between the wheels, unless swiveling the battery cartridge(s), like NIO, and even then the situation in not that much improved, compared to longitudinal loading.
PowerSwap tell you to say goodbye to long charging times! Their battery cartridge is replaced in under 3 minutes - faster than fueling an ordinary petrol car. The car is no longer sitting parked for hours during charging.

No more cords, no more hassle. The battery is swapped in Drive-Thru style and the driver can remain inside the vehicle while the discharged battery is being replaced.

According to PowerSwap an infrastructure can be built at a fraction of the cost compared to installing a huge number of charging poles. The system can easily be installed at existing gas stations or in parking lots. We agree on all of this.
Said: Sten Corfitsen, founder of Powerswap, "Our solution is in many ways revolutionary and will change the way we think about EV charging."

The technical concept was created with the goal of using the already well-established refuelling infrastructure, petrol stations. "It is better if we do not have to establish a completely new infrastructure just because we want to use EVs instead of fossil fuel cars. By installing robotic swap units at petrol stations and parking lots, we will gain a cost-efficient solution for the transition to a dominant electric transport sector."

Powerswap is very different from earlier battery swap trials, which have been based on building new swap stations and which are expensive and require new land. Another difference is that Powerswap handles the swap of batteries from the side, which is more optimal when it comes to automation.

"I am confident we have created something that will lead to faster expansion for EVs. Taxi companies and other transportation fleets are suitable niches for our introduction because their operations have no time available for prolonged charging. We have received a Letter of Intent from Taxi Stockholm, the biggest taxi company in Sweden."
PowerSwap is a fully automatic battery swap system for electric vehicles. With Power Swap you can "refuel" your electric vehicle in 3 minutes – providing uninterrupted e-mobility. With Power Swap, the remaining obstacles with electric vehicles are eliminated, leveraging the market potential beyond early adopters and facilitating the sales growth while enabling a faster transition to a climate neutral transport infrastructure. Further, by removing the discharged batteries from the vehicle, they can be charged harmoniously in the battery storage, reducing peak loads on the grid while being utilized as renewable energy storage.

The PowerSwap unit can be installed at existing petrol stations, similar to petrol pumps, or at public parking lots – enabling the establishment of a cost efficient infrastructure. The unit functions as a distribution system for batteries and is equipped with multiple sensors, motors and computer systems. Their system swaps the batteries from the side of a vehicle -reducing the unit's complexity, size and cost. It reminds us of the GM and Mercedes side load systems, except that the cartridges are much smaller over the old lead acid units.

The dimensioning of the storage will depend on external parameters such as traffic, grid capacity and location. With a high grid capacity, the storage will contain fewer batteries as more power can be used for charging. A normal number of batteries is 20-25. The storage is also suitable for integration with solar or wind energy – making the Power Swap system 100% eco-friendly.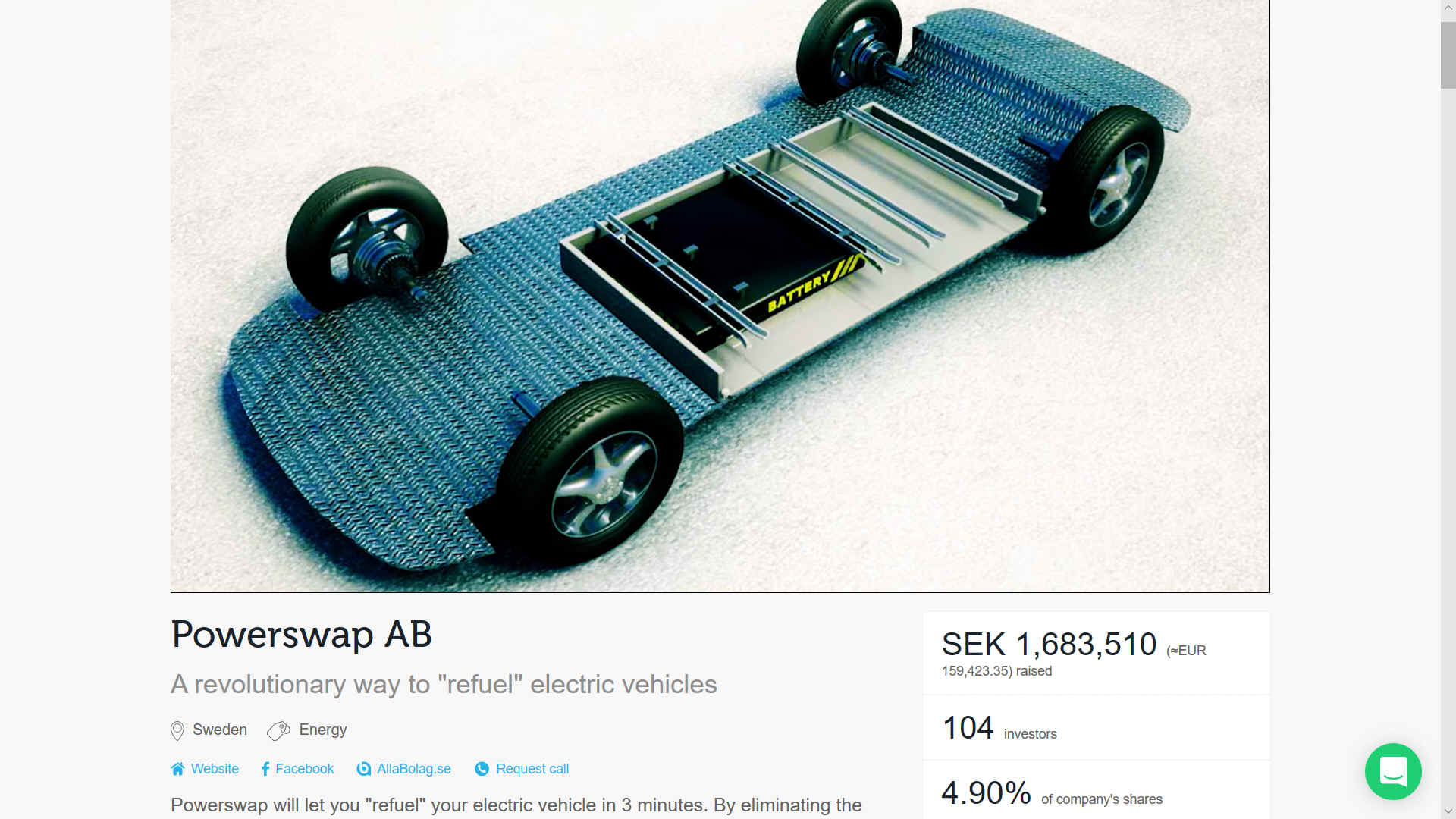 LOW DOWN - The system operates with 2 flat battery cartridges which are stored in a compartment on the underside of the car (not as shown above). In the longer term it is anticipated that these will become a part of the vehicle's chassis, but the first step is to bolt on a cassette underneath the vehicle's floorpan.
FUNDEDBYME.COM
Powerswap will let you "refuel" your electric vehicle in 3 minutes. By eliminating the remaining problems with long charging times, Powerswap will boost the large scale market expansion with electric vehicles. Instead of connecting a charging cord, Powerswap will replace the empty battery with a fully charged one in no time. Our revolutionary system means a new way to establish a cost efficient infrastructure at existing fuel stations and parking lots.
Our team are experienced "serial innovators" and pioneers with automatic refuelling. This project is a great challenge but we have found a suitable plan how to start and grow.

Investor proposal

Car manufacturers as well as governments in many countries support a rapid growth with electric vehicles (EVs). Regardless, the sale of EVs have not evolved as expected due to a few remaining hurdles such as the long time needed for charging. Powerswap has the potential to change this and become the component that makes the EV market take off. Great opportunities are not enough as a feasible plan is needed to find a start and then a success. Powerswap focuses on the segment of the market which has the biggest challenges with long charging time, the taxi companies.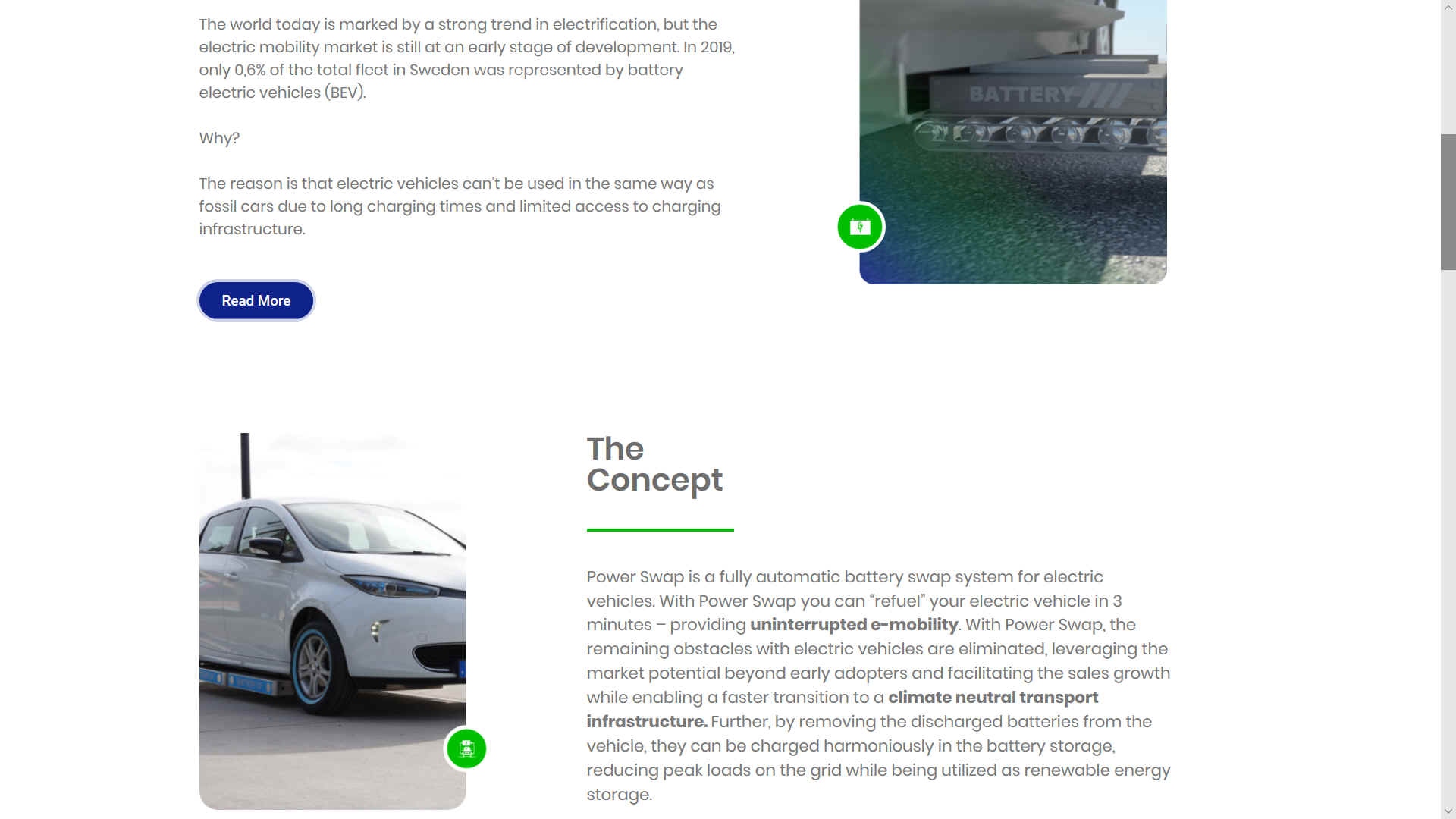 CARTRIDGE EXCHANGE - In search for a long-term, sustainable energy solution for passenger and goods transport, the electric car is the modern alternative. However, the electric car has significant obstacles to overcome which are holding back the development.
Share allotments

There are 2 341 230 A-shares with voting power 10 and 3 103 930 B-shares with voting power 1.
Piggy back to petrol stations

With a network of Powerswap units installed at existing fuel stations and parking lots, we will get an infrastructure for long range driving as well as a solution for those drivers who are living in the cities and do not have access to charging at home or charging at work. This group in Sweden include 50 percent of all drivers and in many countries up to 90 percent of all drivers. Further, an infrastructure based on a Powerswap network is economically favourable compared to the alternative to install a big number of charging poles in public areas.
The plan does mean persuading petrol companies to work alongside electrics as part of a phased transition. We hope they will be forward thinking on this.
Priced to Satisfy

The need for battery swap solutions has been accepted in China. In Beijing 100 swap stations are serving about 3000 taxi cars. These stations require 200 sqm compared with 12 sqm for Powerswap.
Due to the big difference in complexity a Chinese station cost 1,4 MEUR while Powerswap is only 175 000 EUR.
It is unclear how much a cartridge exchange costs including depreciation and what the range is per charge.
Risk Analysis

- Powerswap is a small player with significant intellectual property. That said there are no guarantees that a major player with bigger financial muscle will not copy the technology regardless.
- Their strategy is to establish partnerships with major companies, who will add strength to the concept.
- PowerSwap offer no guarantees that better technologies will not be developed.
- If the parameters change regarding the use of hydrogen were to improve, the use of batteries could become obsolete. That said EV battery technology will also develop at the same time.
- Expansion of the system will require additional funding at a later date which is not yet is secured.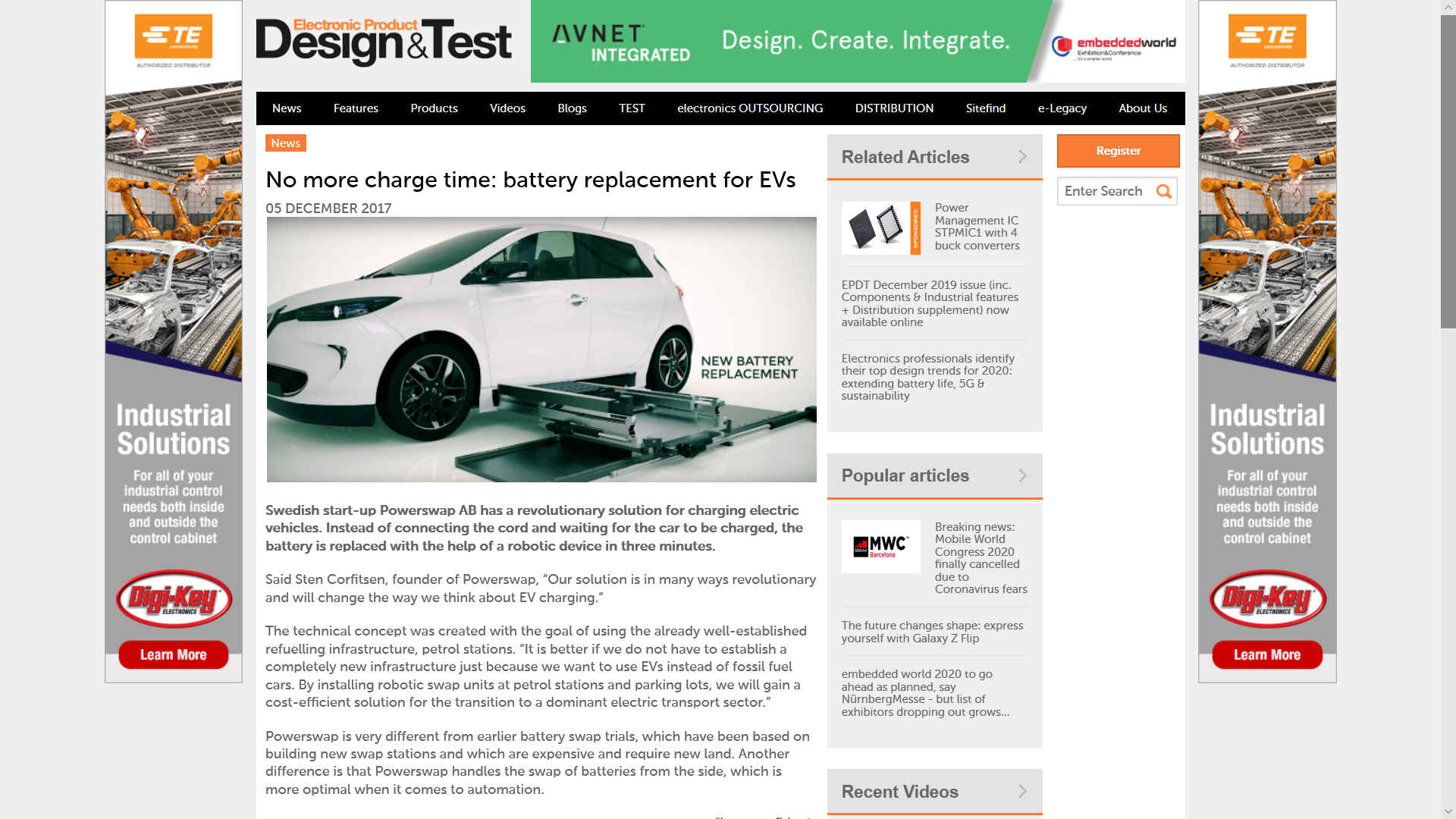 Kinesisk batteritillverkare. Konceptet innebär att flera tillverkare kan paketera sina battericeller i boxar med prismatisk form, vilket skapar möjlighet för en standard att växa fram. Som brukligt börjar standardiseringsarbete med en bra teknisk lösning som tilltalar och skapar fördelar för flera aktörer.

Early adopters

Den första målgruppen för Powerswap är fordonsflottor med taxibilar, post-och distributionsbilar, som används under flera arbetsskift. Dessa flottor har extra svårt att finna tid för att stå still och ladda.

På lång sikt

Batteribyte har förutsättningar för att kunna bli en storskalig lösning för "tankning" av elbilar, vid sidan av batteriladdning vid hemmen för demsom har egna hem på marken.

Infrastrukturen

En infrastruktur med batteribytessystem kan med fördel byggas upp på befintliga tankstationer och P-platser. Där finns markytor tillgängliga, men också företag som jobbar med att saluföra drivmedel till bilister.

För mer information besök www.powerswap.se eller kontakta bolaget.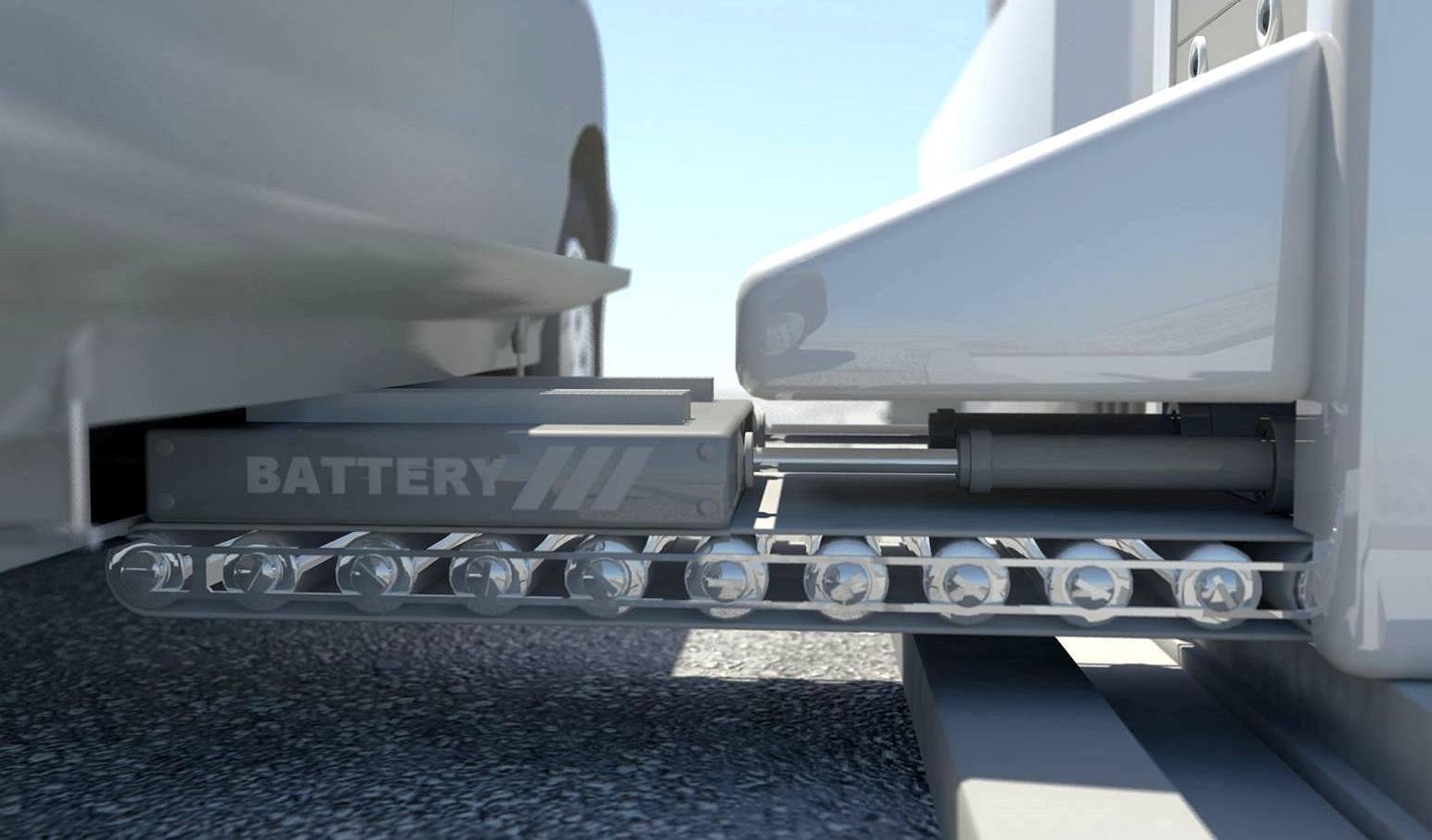 POWERSWAP COMPANY TIMELINE

2011 - Business idea was created as a spin-off from Fuelmatics AB
2011 - First patent application was filed
2013 - Swedish Energy Agency (Energimyndigheten) decide to support early development with 6,5 MSEK
2013 - collaboration agreement was signed with ECar AB for the supply of a modified Fiat Cubo EV for battery swap
2014 - First patent granted
2014-2015 - alternative solutions created for Fiat CuboEV, Tesla and Renault ZOE
2015 - collaboration agreement begins in South Korea
2016 - MOU signed with InfraNeu in Germany
2017 - Letter of Intent from Taxi Stockholm
2017 - Collaboration commenced with Chinese battery maker
2017 - System announced to the media for 2018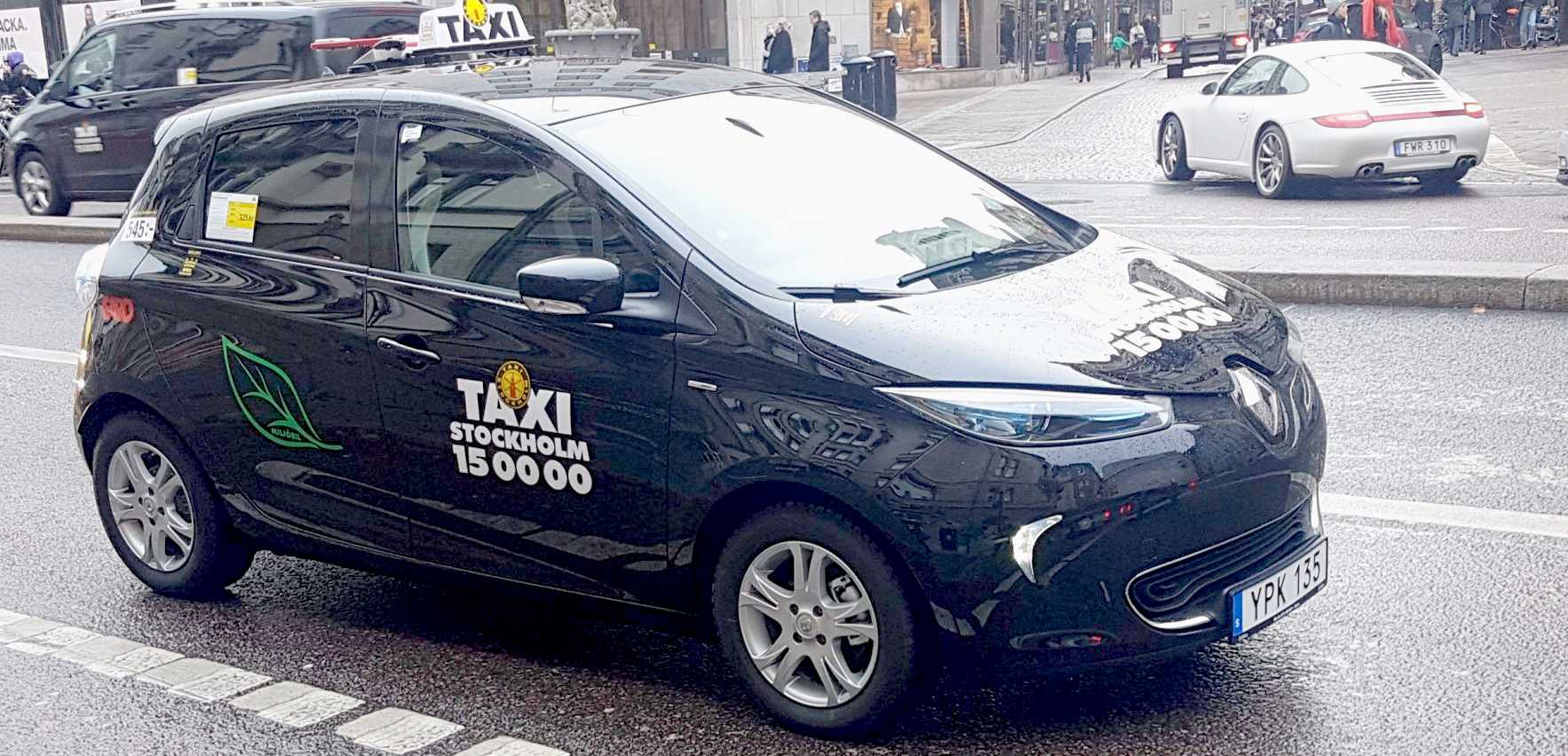 Follow on objectives

1. (2018) To build 2-3 demonstration units by the help of our development team and external subcontractors. This will include a small number of battery packs from the Chinese partner and to make necessary adaptations on the Renault Zoe cars.

2. (2018) Use demonstrators to obtain 1-2 orders for pilot installations in Stockholm and in Beijing together with taxi companies such as Taxi Stockholm. Renault Zoe cars will be modified by ECar for use in the pilot programs.

3. (2019) To obtain orders from company fleet operators like taxis and courier companies.
EUROPEAN AUTO MANUFACTURERS WITHOUT COMPATIBLE CARTRIDGE EV'S:
- Audi
- BMW
- Citroen
- Fiat
- Ford
- Lotus
- Mercedes
- Peugeot
- Renault
- Seat
- Smart

Electric cars can be sold without the batteries and obtained through leasing, resulting in drastically reduced prices for electric cars – even lower than for petrol and diesel cars!
CONTACTS
Nytorpsvägen 6
Stockholm 183 71
Sweden
+46 (0)8 22 40 00
info@powerswap.se
A - Z of CARS and MOTORCYCLES
HYDROGEN FUEL CELL CARTRIDGE - It looks like a battery cartridge. It performs like a battery cartridge. It stores energy like a battery cartridge, but it is a hydrogen fuel store and fuel cell cartridge combination. Where lithium and cobalt raw materials may limit the production numbers of EVs as green motoring becomes the norm, hydrogen in a safe format might offer unlimited possibilities. The concept is compatible with SMARTNET FASTCHARGE service stations. NOTE: This is just a concept, not a product yet. More development is needed to before mass production could be entertained.
LINKS & REFERENCE
https://www.fundedbyme.com/en/campaign/8228/powerswap-ab-1/
https://petrolworld.com/headlines/item/28849-sweden-powerswap-s-revolutionary-solution-for-ev-charging
https://www.epdtonthenet.net/article/141132/No-more-charge-time--battery-replacement-for-EVs.aspx
https://evfleetworld.co.uk/swedish-company-hopes-3-minute-battery-swap-could-replace-rapid-charging/
http://powerswap.se/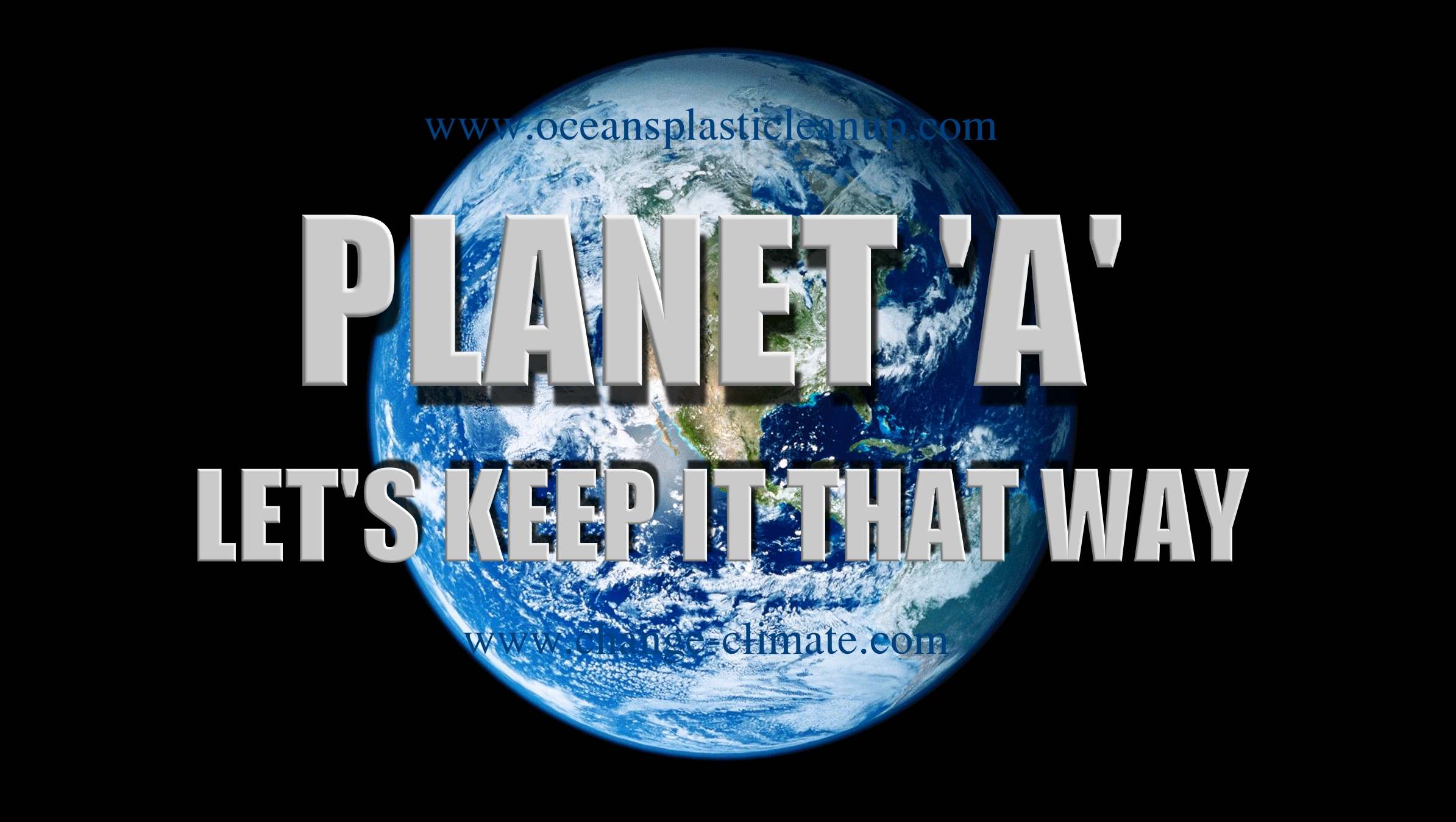 Please use our A-Z INDEX to navigate this site