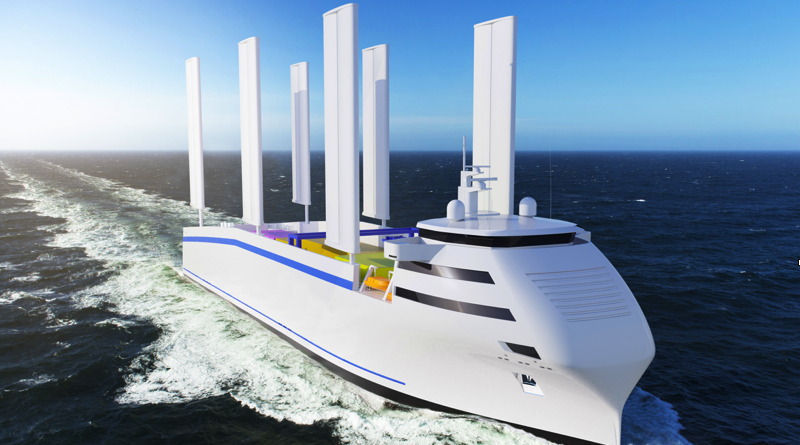 OCTOBER 2019

The OceanWings system pioneered on the research vessel Energy Observer is going to be an essential part of a new 121 m / 400 ft cargo ship for transporting components of a space launcher rocket from Europe to French Guiana.

OceanWings® are automated and reefable soft wingsails developed by yacht designers VPLP. They were added to the hydrogen-powered Energy Observer to improve the efficiency of the wind aspect of her quest to circle the globe with zero emission of carbon or fine particles.

Reduces emissions by 30%

To be clear, this new cargo ship is not an electric or hydrogen powered ship, but it is a great illustration of the way new technology proves its value on experimental vessels like Energy Observer and then makes its way into real life applications in helping reduce carbon emissions.

The 4 wingsails – each 30m / 100ft high to make up a total surface area of 1425 square meters / 15,000 sq. ft. – assist the ship's main propulsion system to reduce fuel consumption and carbon dioxide emissions by an average of 30%.

The ship design came about when rocket manufacturer ArianeGroup put out a call for tenders for transportation of the various parts of their Ariane 6 launcher from Europe to the launch pad in Kourou, French Guiana. The contract to build was awarded to the maritime company Alizés a joint venture between includes offshore service firm Jifmar and a young company specializing in carbon-free transport, Zéphyr & Borée. They in turn brought in VPLP Design to help design a ship using OceanWIngs as part of its propulsion system.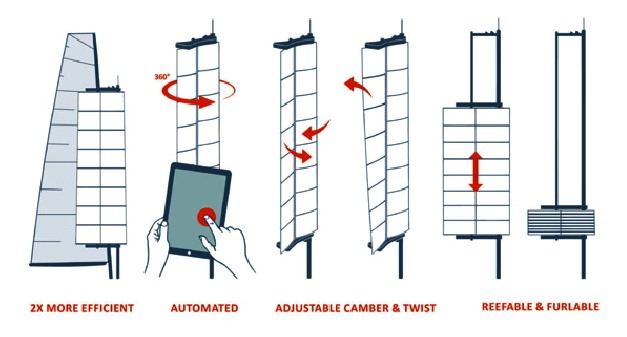 For VPLP the project is the fruit of a long labour of love that started in 2010 with BMW Oracle's America's Cup victory using a VPLP trimaran with a rigid wingsail. Development continued, with advances in both the wing construction and how they are controlled.

The OceanWings addition to Energy Observer has helped prove the efficiency of the system and its ease of use for even a small crew. When the automated sailwings are in use propelling the 30m catamaran its hydrogen/electric motor reverses to become a turbine and charge the vessel's batteries. In turn this electricity is used to extract hydrogen from seawater that can then drive the motor when there is no wind. (EO also has solar panels).
Increasing pressure for clean shipping solutions

When it come to this application of OceanWings in the rapidly changing world of marine cargo, Marc Van Peteghem (the VP in VPLP) said "Shipping is facing new challenges, because it alone is responsible for 5% of greenhouse gasses, a figure that is set to double by the year 2050. Pressure from institutions and the general public for clean transport is increasing and stricter regulations are coming into force."

This is a great step forward in proving the economics of reduced carbon shipping, and the focus for VPLP isn't just on cargo vessels or just OceanWings. VPLP is already looking into passenger ferries equipped with hydrofoils, similar to some of the high speed ferries (from other companies) unveiled in Norway.

The innovations are taking place all over the world, with dozens of companies looking at ways to move everything from huge cargo ships to personal watercraft across the water without fossil fuels. VPLP definitely sees a future in their designs, a new company, Ayro, has been set up for the specific purpose of developing Oceanwings.

SUSTAINABLE CONTAINER SHIPS - This 50m concept vessel may be doubled and quadrupled without too much trouble. You'd need to up-scale by a factor of 8 to match the 400 meter ships that operate today to carry 960 standard containers. See our top ten list below. That is nowhere near the capacity of a heavy bunker fueled giant, but it is a formula for eventual 100% zero carbon transportation that is theoretically workable. We believe that such a system could eventually replace bunker fuels and eliminate the need for liquid fuels that may be potentially dangerous.
CARGO CONTENDERS A list of the top ten fossil fueled leaders that could benefit from solar and wind assistance. You may notice from the specification of these vessels that we are in the right ballpark for power to cargo ratio when comparing DWT to installed engine power:
| | | | | | |
| --- | --- | --- | --- | --- | --- |
| RANKED | SHIP NAME | No. BUILT | LOA | | KW/TON/DWT |
| - | - | - | - | - | - |
| 1. | | 5 | 399.9 | 23,756 | 0.379 (0.50hp) |
| 2. | | 5 | 399.9 | 21,413 | 0.316 (0.42hp) |
| 3. | | 3 | 400.0 | 21,237 | N/A |
| 4. | | 2 | 400.0 | 20,954 | 0.368 (0.49hp) |
| 5. | | 10 | 399.0 | 20,568 | 0.3 (0.4hp) |
| 6. | | 10 | 400.0 | 20,388 | N/A |
| 7. | | 1 | 399.0 | 20,182 | N/A |
| 8. | | 3 | 400.0 | 20,170 | 0.427 (0.57hp) |
| 9. | | 4 | 399.8 | 20,119 | N/A |
| 10. | | 5 | 400.0 | 19,870 | N/A |
| - | - | - | - | - | - |
| 00 (Proto) | | - | 50.0 | 6 | 0.37 (0.49hp) |
The concept of using wind and solar power together on ships is no longer science fiction, nor is it decades away. There are a number of interesting concepts under development. In our view the first practical application of combined wind and solar power was with Solar Sailor, where sails were also solar panels that could be aimed.
A - Z SAIL AND SOLAR ASSISTED BOATS & SHIPS
LINKS & REFERENCES
https://plugboats.com/hydrogen-vessels-wingsails-now-on-cargo-ship/
http://www.sautercarbonoffsetdesign.com/black-magic3.html
https://seaportgame.fandom.com/wiki/Save_the_oceans_-_Ships
https://www.seatrade-maritime.com/news/americas/new-coalition-to-push-for-zero-carbon-emission-shipping-by-2030/
https://www.mol.co.jp/en/pr/2019/19065.html
https://www.j-l-a.com/press_releases/classnk-grants-aip-related-to-wind-challenger-project/
https://shipandbunker.com/news/world/148606-solar-and-wind-powered-cruise-ship-to-sail-in-2020
https://www.ecomarinepower.com/en/wind-and-solar-power-for-ships
TRANSFERABLE TECHNOLOGY - The design of the Climate Change Challenger might be adapted to Cargo, Container, Cruise and Ferry designs, without needing to radically alter port facilities. The designs above are not representative of adaptations of the concept, but serve to illustrate the thinking of other design houses.
Please use our A-Z INDEX to navigate this site
AEGEAN - ADRIATIC SEA - ARCTIC OCEAN - ATLANTIC OCEAN - BALTIC SEA - BAY OF BENGAL - BERING SEA - CARIBBEAN SEA - CORAL SEA
EAST CHINA SEA - ENGLISH CHANNEL - GULF OF GUINEA - GULF OF MEXICO - INDIAN OCEAN - IONIAN - IRISH SEA - MEDITERRANEAN SEA
NORTH SEA - PACIFIC OCEAN - PERSIAN GULF - SEA OF JAPAN - SOUTH CHINA SEA - SOUTHERN OCEAN - TYRRHENIAN