SUSTAINABLE CONTAINER SHIPS - This 50m concept vessel may be doubled and quadrupled without too much trouble. You'd need to up-scale by a factor of 8 to match the 400 meter ships that operate today to carry 960 standard containers. See our top ten list below. That is nowhere near the capacity of a heavy bunker fueled giant, but it is a formula for eventual 1

00% zero carbon transportation that is theoretically workable. We believe that such a system could eventually replace bunker fuels and eliminate the need for liquid fuels that may be potentially dangerous.

Change is the basic law of nature. But the changes wrought by the passage of time affects individuals and institutions in different ways. According to Darwin's Origin of Species, it is not the most intellectual of the species that survives; it is not the strongest that survives; but the species that survives is the one that is able best to adapt and adjust to the changing environment in which it finds itself. Applying this theoretical concept to us as individuals, we can state that the civilization that is able to survive is the one that is able to adapt to the changing physical, social, political, moral, and spiritual environment in which it finds itself.

Established in 2014, the International Windship Association (IWSA) seeks to develop wind assisted propulsion for commercial shipping over the world. The organization provides valuable data about and financially supports investments into such technologies.


The total investment in innovative shipping technology is grossly inadequate at present. The investment paradox may deter adoption of a maverick course of action as successful operators fear losing their hard earned gains. Without change however business risks stagnation.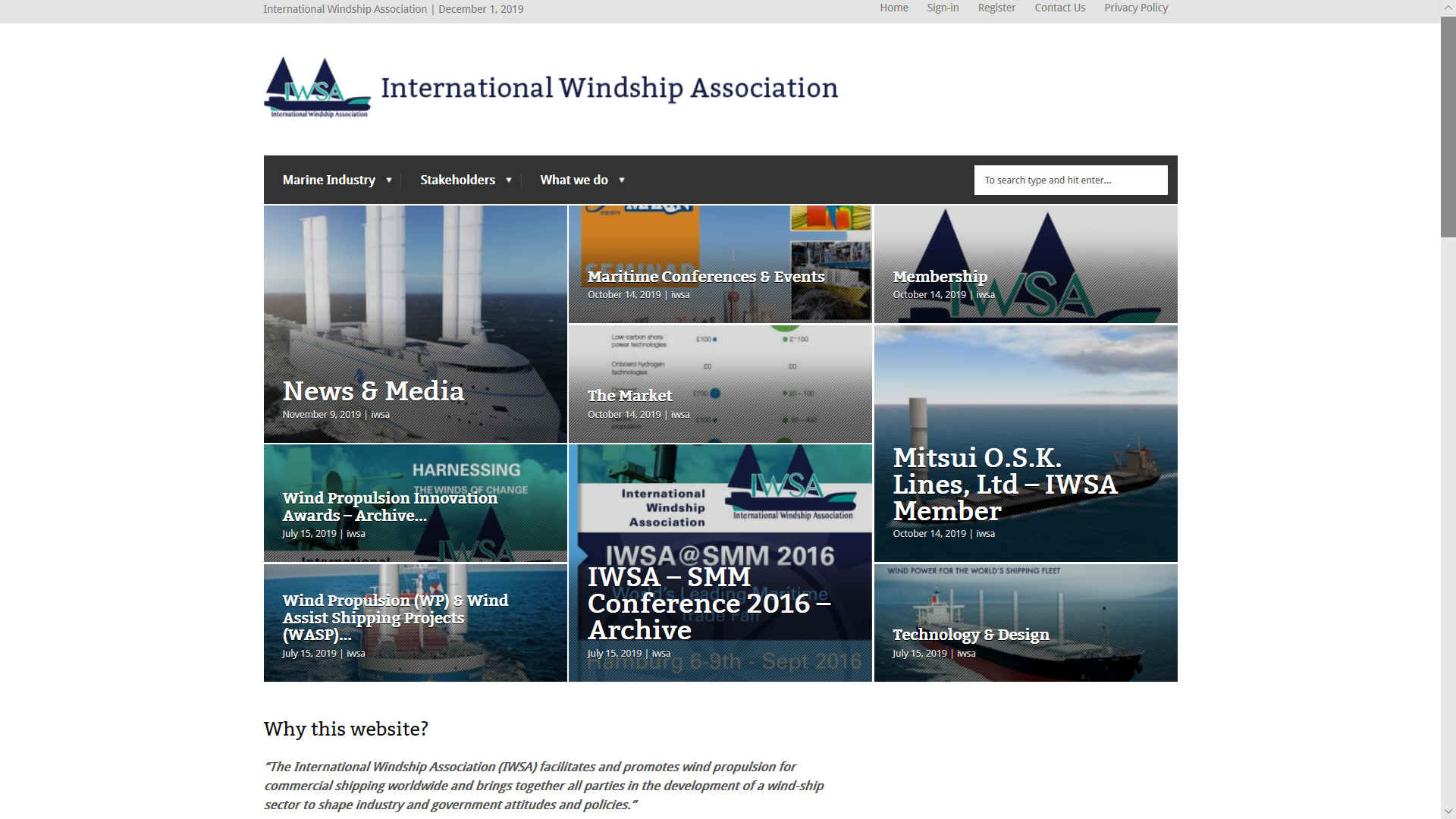 ABOUT SHIPPING
Technologically, the shipping industry may not be described as cutting edge. Many regard shipping as largely conservative in outlook. But the necessity to survive under the onslaught of unpredictably fluctuating fuel prices, commercial pressures, and tightening regulations is gently propelling genuinely useful innovation.

Wind assisted ship propulsion is one such innovation. Is it the revival of an old concept that many are doing their best to apply in a new way.
The Age of Sail stretched roughly from the 16th to the mid-19th century, during which our ancestors relied on natural winds and wind patterns (trades) to propel ships.

Where shipping is a largely conservative industry, this might have something to do with the investment paradox – while the risk is high, the returns are low. Only a few are destined to make it big. But when they do, they make it really big, colossal even. Why not then invest some of that return in staying afloat for the next 20 years.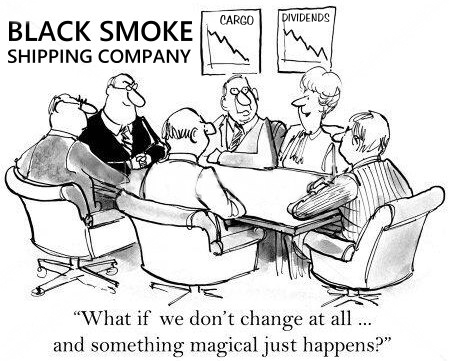 WIND ASSISTANCE
Wind assisted ship propulsion goes back to the 1920s. First devised in the 1920s, the Flettner Rotor technology is the market leader in wind assisted ship propulsion technologies at the moment, though sail projects look set to overtake revolving cylinders.
The concept of using wind power with conventional steam engines as a hybrid propulsion system for ships has been with us since the early, coal fueled, paddle steamers - that carried sails - where they were derived from sailing ships, and sails provided a safety net in case an engine broke down.
Before that the Romans used sails and slaves to row, so assisting the speed of a sailing ship with muscle power. What came first, rowing or sails? Steam turbines came and went, replaced by giant piston engines and diesel 2 strokes that use heavy oil (bunker fuel).
With diesel being such a polluter, a return to sailing ships of a kind that is not dependent on human muscle is a good thing, where that would not be economical or environmentally friendly from the food consumed.
According to Lloyd's Register Flettner Rotors are, 'one of the few technologies that offers double digit fuel savings.' Retrofits can save 10% to 30% on fuel while new builds can slash 50% off bunker fuels.

Maximizing cargo space that, in turn, maximizes revenues, is the main design parameter of present day commercial ships. Engineers however design sailing ships to have sails of the largest possible surface area.
This is a fundamental contradiction in adapting present day ships to wind assisted ship propulsion.
In addition the design of a wind assisted commercial ship has to be such that it minimizes crew requirements while maximizing stability.
SOLAR VAWT COMBINATION - A vertical axis wind turbine powered vessel, that also employs solar wings as a hybrid medium sized zero carbon workboat, or a small ferry. Copyright © November 2019 Cleaner Ocean Foundation and Bluebird Marine Systems Ltd.
Such design parameters have led to the development of three main concepts for wind assisted ships:

- Wing Sail
- Kite Sail
- Flettner Rotor

As recent as this year we have wind turbines as the newcomer in the equation, thanks to the conceptual designs of Bluebird Marine Systems and the Cleaner Ocean Foundation. These designs allow turbines (or rotary sails) to be hoisted and furled, so able to work in harmony with solar panels to avoid shading, and for safe docking in ports, or battening down the hatches in rough weather.

The 'Wing Sail' concept emerged out of the U.S. government commissioned study in the 1980s that went into the economic feasibility of wind assisted propulsion in response to soaring fuel prices.
This system was designed as an automated mechanism of solid, rectangular sails on a framework of cylindrical masts. They would adjust automatically to changes in wind direction and would need minimal handling.
Despite the fact that trials of the wing sail fitted aboard a small freighter demonstrated fuel savings of between 15% and 25%, the concept failed to make it big.

The road ahead for wind assisted propulsion technologies is not a cakewalk. Far from it, the path is dotted with umpteen pitfalls such as:

- Conservative Mindsets
- Limited Finance
- Exclusion from Climate Change Agreements

Where shipping is largely conservative. This is the number one enemy of innovation. Things are changing, but the pace is pitifully slow. Survival in the 21st century demands express adaptability.
Such entrenched outlooks mean that not many are ready to divert funds for research and development. And without finance, innovation is as good as dead. Please note, research is a supremely dicey area. You need large investments but cannot guarantee if and when you can give results.

Coming to the issue of climate change agreements, the Paris Agreement did not dare include international shipping and aviation within its ambit – just like its predecessor agreements at Kyoto and Copenhagen.
This is because ships and airplanes move through diverse zones each with its separate set of emission regulations under the IMO's MARPOL laws.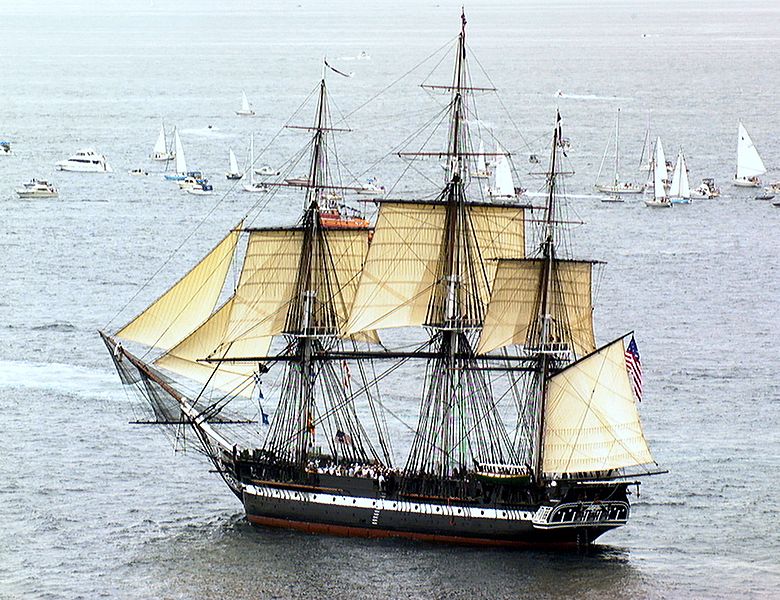 IWS MEMBERS
Add-Modules Technology (France)
AirSeas (France)
Anemoi Marine Technologies (France)
Blue Technology (Denmark)
Bound4Blue (Spain)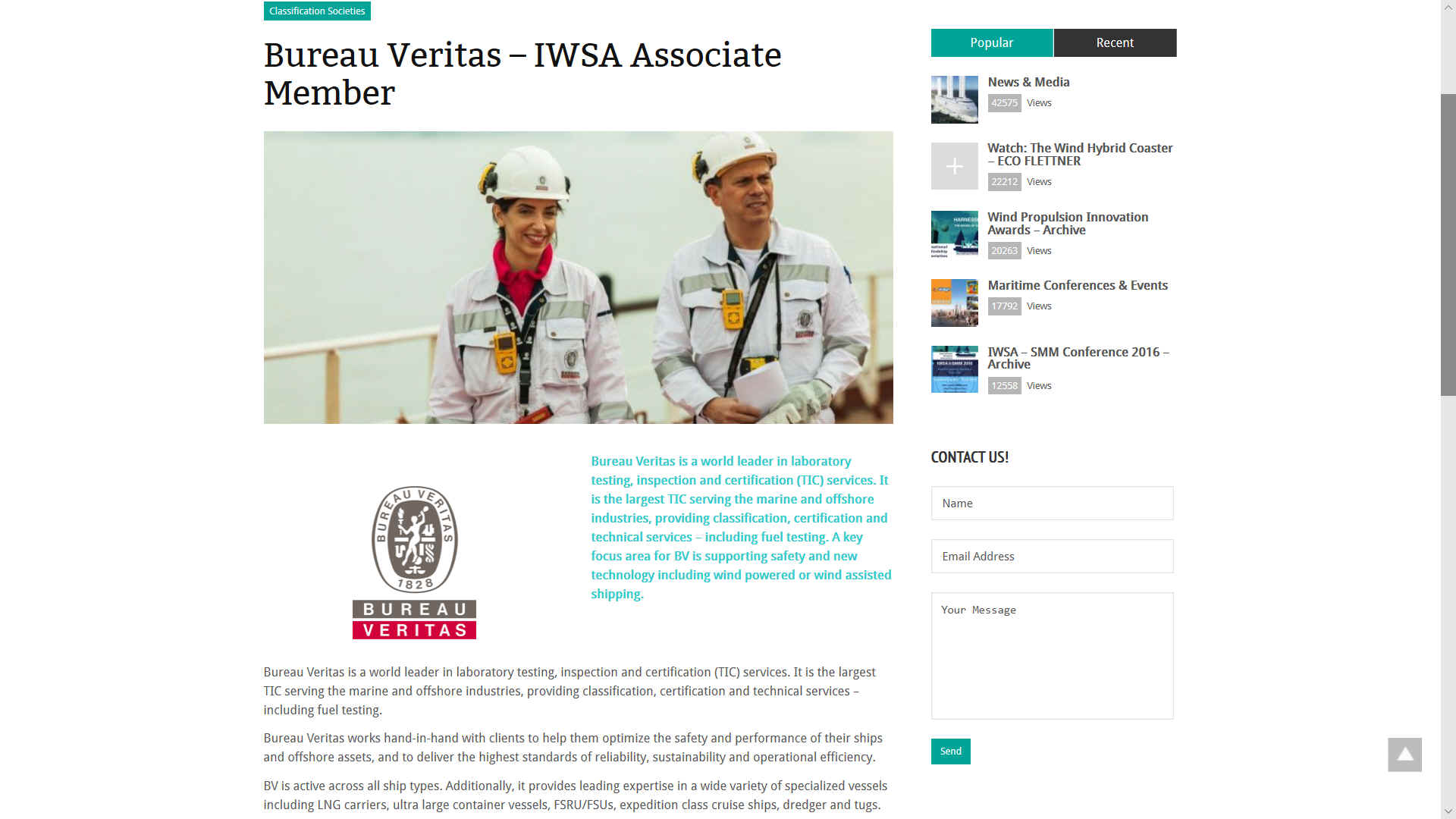 CLASSIFICATION - Bureau Veritas is a world leader in laboratory testing, inspection and certification (TIC) services. It is the largest TIC serving the marine and offshore industries, providing classification, certification and technical services – including fuel testing.
Bureau Veritas works hand-in-hand with clients to help them optimize the safety and performance of their ships and offshore assets, and to deliver the highest standards of reliability, sustainability and operational efficiency.
BV is active across all ship types. Additionally, it provides leading expertise in a wide variety of specialized vessels including LNG carriers, ultra large container vessels, FSRU/FSUs, expedition class cruise ships, dredger and tugs.
A key focus area for BV is supporting safety and new technology including wind powered or wind assisted shipping. BV is the classification market leader in new orders for LNG fueled ships and for LNG bunker vessels. It recently issued the first class rules and guidance for FSRUs and FSUs.
Created in 1828, the Group has more than 74,000 employees in about 1,400 offices and laboratories around the world. Bureau Veritas is listed on Euronext Paris and belongs to the Next 20 index.
Bureau Veritas (France) https://marine-offshore.bureauveritas.com/
Chantiers de l'Atlantique (France)
Computed Wing Sail [CWS] (France)
Crain Technologies (France)
Dasivedo Design Ltd (Canada)

Detlev Löll Ingenieurbüro GmbH Dykstra Naval Architects (Netherlands)
Energy Ship (Germany)
Ecoclipper (Netherlands) 
eConowind BV(Netherlands) 
Fair Transport(Netherlands) 
Fair Winds Trading Company (UK) Finocean (Finland)
Fraunhofer Institute for Systems and Innovation Research ISI (Germany)
Go Sail Cargo (Australia) Green Marine (Canada)
Hamburg School of Business Administration [HSBA] (Germany)
HSVA - Hamburgische Schiffbau-Versuchsanstalt GmbH /
Hamburg Ship Model Basin (Germany)
IDMM (Netherlands)
INHA Technology College (South Korea)
Louis Dreyfus Armateurs Group (France)
Magnuss Ltd Maine Sail Freight (US)
MARIN (Netherlands)
MARIKO [Maritimes Kompetenzzentrum Leer gemeinnützige GMBH] (Germany)
Mer Forte(France)
Micronesian Center for Sustainable Transport [MCST] (Marshall Islands)
Mitsui O.S.K. Lines, Ltd (Japan)
Modern Merchant Sailing Vessel (Germany)
Nayam Wings (France)
New Dawn Traders (UK)
Norsepower North Sea Foundation (Netherlands)
Oceanfoil (UK)
Oceania Centre for Sustainable Transport (OCST)(Fiji)
One Sails(UK)
Peace Boat Ecoship Project(Japan)
Peutz BV Propelwind(France)
Sailline Fish Ltd(UK)
Salish Sea Trading Cooperative (US)
Seagate Sail (Italy)
Schormanns Maritima(Germany)
Smart Green Shipping Alliance (UK)
TankerProa (US)
The Bessie Ellen (UK)
Thordon Bearings (Canada)
TU Delft (Netherlands)
Vindskip/Lade AS (Norway)
Wind Challenger Windship project (Netherlands)
Windship Technology (UK)
Windvinder (Germany)
Wind+Wing Technologies (US)
Wing Force Partners WWF International (UK)
SUPPORTERS
Dr. Hannes Renzsch, Fluid Engineering Solutions GmbH & Co. KG (Germany)
Filippos Moschonas (Qatar)
eOdyn (France)
Center for Post Carbon Logistics (USA)
Mathis Rühl Architecture Navale(France)
Avelaj (France)
Zéphyr & Borée(France)
Capt.Raghuraman Kesavan (India)
Mr. Epaminondas Banos, Chemical & Environmental Engineer (Greece)
Baptiste LABAT – Nautilabs/Project Robokite (France)Verna Inventions (France)
Professor Michele Acciaro, Associate Professor of Maritime Logistics at Kühne Logistics University [KLU] (Germany)
Pacific Islands Development Forum [PIDF](Fiji)
Bosgraaf Yacht Design (Netherlands)
Peter Mollema, Strategy Advisor Port of Rotterdam Authority (Netherlands)
Arista Shipping (Greece)
Energy Tactics(Netherlands)
Britannia Sailing Trust Finn Volger – Engineer, Caterpillar (Germany)
Claudio Boezio – Naval Architect(Germany)
SailCargo.Inc (Costa Rica)
Therese Canning – Postgraduate researcher, University of Exeter (UK)
VoyageVert (UK)
Stretch Space(UK)
Deltamarin(Finland)
Siegfried Wagner NA(Germany) Hamburg School of Business Administration [HSBA] (Germany)
SkySails (Germany)
Sea-Change Sailing Trust (UK)
University of South Pacific (USP) – South Pacific
Province of Fryslan (SAIL Program – Netherlands)
UCL Energy Institute(Sustainable Shipping – UK)
Heinz Otto, Windschiffe (Germany)
Trans Oceanic Wind Transport(TOWT) (France)
Prof. Alastair Couper – Emeritus Professor, University of Cardiff (UK/Pacific Ocean)
Dr. Peter Nuttall – Pacific Centre for the Environment and Sustainable Development Portsmouth University (UK)
Plymouth University (UK)
El Nino Clipper (Federated States of Micronesia)
Atlantis Trading Company (Commercial) (Netherlands)
Lo Entropy (Denmark)
Sailing for Sustainability (Fiji)
Greenheart Project (Japan)
Dr. Chris Rynikiewiicz, Independent consultant low carbon transition (UK/France)
Fiji Voyaging Society (Fiji)
Carbon War Room (Shipping Efficiency)
Dr. Claus Schriver, KFW (Germany)
Vally Athanasopoulou, Greenpeace International (Netherlands)
Dave Walsh, Arctic, Antarctic and Oceans Campaigner & Communicator
Peter Schenzle, HVSA (rtd) (Germany)
Isabelle Rojon, Research Consultant, U-MAS (UK)
Prof. Richard Birmingham – Univ. of Newcastle (UK)
Emden Leer Hochschule (Germany)
Catherine Austin – Fathom Maritime Intelligence (UK)
Katell Jaouannet, E&E Consultant (France)
Taratari Shipyard (Bangladesh)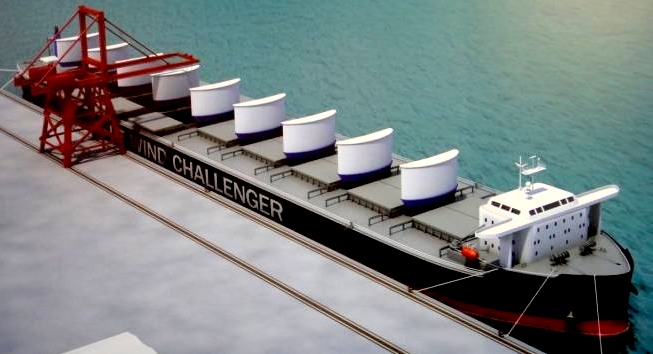 Analysis techniques for evaluating the fuel savings associated with wind assistance
Tristan Smith, Paul Newton, Graeme Winn, Andrea Grech La Rosa 2013
A new routing optimization too – influence of wind and waves on fuel consumption of ships with and without wind assisted ship propulsion systems
Marcus Bentin, David Zastrau, Michael Schlack, Diethardt Freye, Reinhard Elsner, Stephan Kotzur (Hochschule Emden-Leer, Leer, Germany) Transportation Research Procedia 14 ( 2016 ) 153 – 162
A numerical method for the design of ships with wind-assisted propulsion
Ignazio Maria Viola, Matthieu sacher, Jinsong Xu, Fei Wang, Ocean Engineering, vol 105, Sept 2015, pgs 33-42
A Prospect of Sail-Assisted Fishing Boats
Y. Yoshimura, Fisheries Science 2002 Dynamic Performance of Flettner Rotor with and without Thom Discs
T. J. Craft, H. Lacovides and B. E. Launder - Turbulence Mechanics Group, School of MACE, University of Manchester, Manchester, UK.
Economic appraisal of sail-assisted commercial fishing vessels in Hawaiian waters
KC Samples – Mar. Fish. Rev, 1983
Enercon E-Ship 1: A Wind-Hybrid Commercial Cargo Ship
4th Conference on Ship Efficiency – Hamburg, 23-24 September 2013
Filling the Gap: Small Inter-Island Caribbean Trading Ships and their Crew
G. Boerne, 1999
Fuel Consumption Minimization Procedure of Sail-assisted Motor Vessel based on a Systematic Meshing of the Explored Area
Stephane Marie, Eric Courteille – International Symposium on Ship Design & Construction – Environmentally Friendly Ships, Sep 2009, Tokyo, Japan.
Future Ship Powering Options
Royal Academy of Engineering, London July 2013

Group Design Project – Main Report Concept Design of a Fast Sail Assisted Feeder Container Ship
Aaron Burden, Thomas Lloyd, Simon Mockler, Lorenzo Mortola, Ie Bum Shin, Ben Smith
Supervisor: Grant E Hearn, Academic year 2009/2010
Hydrodynamics of Wind-Assisted Ships: A Numerical and Experimental Study on a Systematic Series of Bare Hull Models at Drift Angles
– Struijk, G.D. MA Thesis, 2015, TU Delft -
Hydrodynamic Forces on Wind Assisted Ships using CFD– Settels, J.W., MA Thesis, 2015 – TU Delft
Investigation into Underwater Fin Arrangement Effect on Steady Sailing Characteristics of a Sail Assisted Ship
Yoshimasa Minami, Tadashi Nimura ,Toshifumu Fujiwara, Michio Ueno, Maritime Safety Department, National Maritime Research Institute, Mitaka, Tokyo/p>

Proceedings of The Thirteenth (2003) International Offshore and Polar Engineering Conference, Honolulu
Kite Technology (Pull Shipping To Greener Future)
J. Sidhartha, M. Satya Phani Kumar - International Journal of Innovative Research & Development 2012
Low C for the High Seas Flettner rotor power contribution on a route Brazil to UK
Michael Traut, Alice Bows, Paul Gilbert, Sarah Mander, Peter Stansby, Conor Walsh,
Ruth Wood, Tyndall Centre for Climate Change Research, School of Mechanical
Aeronautical and Civil Engineering, University of Manchester 2012
Operational Performance of Wind Assisted Ships
Rogier Eggers, MARIN, Wageningen/Netherlands, Hiper Conference, October 2016
Performance of auxiliary wind propulsion for merchant ships using a kite
Peter Naaijen, Delft University of Technology & Vincent Koster, Delft University of Technology
Potential for Sustainable Sea Transport: A Case Study of the Southern Lomaiviti, Fiji Islands
Amelia Bola, Sustainable Sea Transport Research Programme, University of the South Pacific 2014
Preliminary Analysis of Log Data from the Fiji Windship 'Cagidonu'
CJ Satchwell, 1986, Ship Science Report, University of Southampton
Renewable Energy Options for Shipping – Technology Brief
nternational Renewable Energy Agency, Jan 2015. Dr Peter Nuttall and Alison Newell (University of South Pacific), Linus Mofor (IRENA) ,Gavin Allwright, Dr Alice Bows-Larkin (Tyndall Centre for Climate Change Research, University of Manchester), Diane Gilpin (B9 Shipping), Dr Christophe Rynikiewicz (University of Sussex), Dr Tristan Smith (The Energy Institute, University College London) and Michael Traut (Tyndall Centre for Climate Change Research, University of Manchester),
Revival of the Modern Wing Sails for the Propulsion of Commercial Ships
P Shukla, K Ghosh - World Academy of Science, Engineering and Technolog
International Journal of Mathematical, Computational, Physical and Quantum Engineering, 2009
Route Optimization Algorithm for Minimum Fuel Consumption of Wind-assisted Ship p
Z Yingjun, L Yuankui, Y Xuefeng – Journal of Applied Sciences, 2013
Sail assist developments 1979-1985
L Bergeson, C Kent Greenwald – Journal of Wind Engineering and Industrial Aerodynamics 1985
S@IL Work Package 4 Presentation
Tyndall conference, 2013
Some comments on the relative Merits of Various Wind Propulsion Devices
Dr. J. F. Wellicome, Southampton University 1985
Steady sailing performance of a hybrid-sail assisted bulk carrier
T Fujiwara, GE Hearn, F Kitamura, M Ueno, Y Minami – Journal of Marine Science & Technology 2005
Study on the Analysis of Market Potentials & Market Barriers for Wind Propulsion Technologies for Ships
commissioned by European Commission DG Climate Action) Dagmar Nelissen, Jasper Faber, Saliha Ahdour (CE Delft), Michael Traut (Tyndall Centre) Jonathan Köhler (Fraunhofer ISI) Wengang Mao (Chalmers University), Nov 2016 – publicly available Jan 2017
Sustainable Sea Transport Research Programme: Toward a Research-based Programme of Investigation for Oceania
Biman Prasad, Joeli Veitayaki, Elisabeth Holland, Peter Nuttall, Alison Newell, Amelia Bola and John Kaitu'u. The Journal of Pacific Studies, 2013
Transitioning to Low Carbon Shipping Module – Sustainable Sea Transport Solutions for SIDS: Pacific Island Countries Case Studies
UNCTAD Sustainable Freight Transport and Finance Toolkit 2016 Peter Nuttall,Alison Newell.
Trials of Discrete Values Control by a Tracked Model for Wing Sale Eco-ship Makoto Katoh, Akinobu Asada - Journal of Machinery Manufacturing and Automation (JMMA) 2013 Turning the Tide: the need for sustainable sea transport in the Pacific Alison Newell, Peter Nuttall, Elisabeth Holland, Joeli Veitayaki, and Biman Prasad 2014 Use of Flettner Rotors in Efficient Ship Design DR Pearson – Influence of EEDI on Ship Design, 24-25 September 2014: The Royal Institution of Naval Architects. 2014
"Wind Challenger" the Next Generation Hybrid Sailing Vessel
Kazuyuki Ouchi, Kiyoshi Uzawa, Akihiro Kanai, and Masanobu Katori Third International Symposium on Marine Propulsors, 2013 Wind-powered Shipping: Review of the commercial, regulatory and technical factors affecting uptake of wind-assisted propulsion Dimitris.Argyros, Lloyds Register, Feb 2015 - Wind technologies: Opportunities and barriers to a low carbon shipping industry Nishatabbas Rehmatulla, Sophia Parker, Tristan Smith, Victoria Stuglis, Marine Policy, December 2015
In 2018, the Seychelles launched the world's very first sovereign blue bond. That issuance was for a total of $15 million worth of 10-year bonds for the purpose of protecting marine environments and safeguarding fisheries. In September 2019 the Pacific Blue Shipping Partnership announced their intention to raise $400 million by issuing a blue bond. The coalition includes the governments of Fiji, the Marshall Islands, Samoa, Vanuatu, the Solomon Islands and Tuvalu. They have set an emissions reduction target of 40% by 2030, and full decarbonisation by 2050.

Dr. Peter Nuttall, a scientific and technical adviser for the Micronesian Center for Sustainable Transport at the University of the South Pacific, says shipping is a "lifeline" for every Pacific nation:

"Without shipping, our economies die, our people can't survive. In places like the Solomon Islands or the Marshall Islands, 80% to 90% of all goods arrive by ship. We have the most expensive shipping in the world, the longest transport routes, and the worst ships."

Dr. Nuttall added that nations in the Pacific "cannot wait for the rest of the world. We have to bespoke design a Pacific solution if it is going to work, not leave the Pacific to languish." We offer that the same situation applies to the Caribbean.