PIONEERING INNOVATION - In 2001 this was the state of the art, but as with PlanetSolar in 2012, these boats were just too slow. It's all to do with capturing energy from nature more efficiently. The solar panel covered wings could only capture energy from one source effectively and the solar array area was too small. the solution is to increase solar panel area and use rotary sails that work with the solar panels, as with the system that is the subject of a Horizon 2020 consortium build from October 2019. See the 'Pacific Islands' container vessel below.
The concept of using wind and solar power together on ships has been within our grasp for many years, but we did not care to divest ourselves of the diesel oils that shipping lines have been burning tax free since bunker fuels took over from coal.
In our view the first practical application of combined wind and solar power was with Solar Sailor, where sails were also solar panels that could be aimed to capture either wind energy or photovoltaic energy from the sun. In 1996 Robert Dane conceived and patented the Solar Wing concept, then founded Solar Sailor Pty Ltd.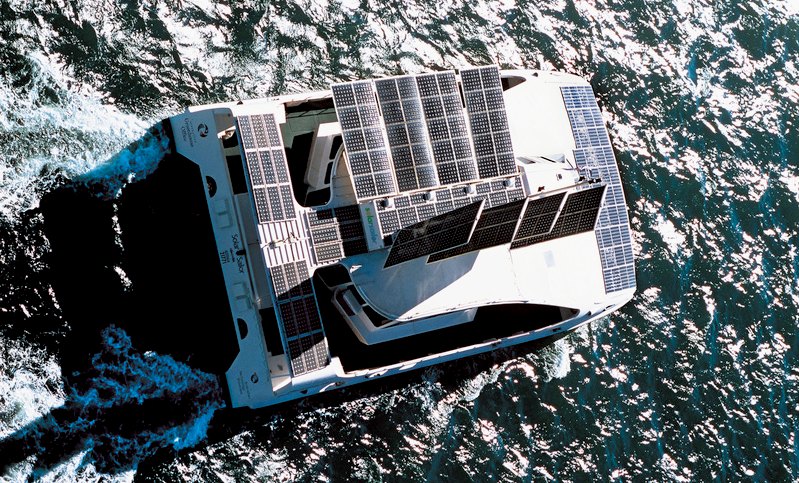 AERIAL VIEW - Solarsails are constructed atop marine vehicles and can harness both wind and solar energy to help power the craft. The solar "wings" use solar panels that can track the sun but can also be physically moved by the wind to capture the most readily available source of energy at any given time. Rather than relying solely on wind or solar power for renewable energy, this technology can capture whichever energy source is most available at the time, but not both at the same time. The Solarsails are also combined with a hybrid marine power system that combines electric drives with hydrocarbon/alternative fuels to create ocean vessels capable of dramatic decreases in fuel consumption and emissions.
Before this, in the 1980's several Japanese ships were fitted with rigid sails with the aim of reducing fuel consumption, driven largely by the oil crisis in the 1970's which resulted in oil shortages and the price of oil soaring. When the crisis passed and oil prices fell again, the viability of rigid sails in terms of cost was undermined.
BBC's Tomorrow's World described SS's technology as "possibly the greatest evolution in boats since the advent of steam." Solar Sailor's intention is to take this technology to the world -green ferries for blue highways. The technology is not just applicable to environmentally sensitive waterways, all marine transport where constant high speed operations are not required, should be using this technology. When high speeds are required, a generator is used to power the electric drive direct, although fuel is being used, it is being used far more efficiently. The technology benefits both passengers and the environment -low noise, fumes, vibration, wash, air pollution, greenhouse gas emissions and no water pollution.

SUSTAINABLE CONTAINER SHIPS - This is a conceptual design for a container transport for 6 standard units. The concept may be doubled and quadrupled without too much trouble and up-scaled by a factor of 8 to carry 960 standard containers. See our top ten list. That is does not match the carrying capacity of the heavy bunker fueled giants, but it is a formula for eventual 100% zero carbon transportation that is theoretically workable and deliverable to help line operators meet the IMO's targets.
Instead of folding sails, this system uses solar arrays that track the sun independently of the wind. By using rotary sails/turbines, the harvesting area can be significantly increased over the SolarSailor system. We believe that such a concept could eventually replace bunker fuels and eliminate the need for liquid fuels that may be potentially hazardous, the most dangerous of which is liquid hydrogen. LNG offers some respite until 2030. A system based on the components shown here might be tacked onto existing ships to assist propulsion and lower fuel consumption - as an interim measure during the transition to sustainable shipping.
ABC NEWS JUNE 2006 SCIENCE - SOLAR SAILOR ENTERS SYDNEY HARBOUR

A revolutionary marine vessel powered by renewable energy, The Solar Sailor, made its maiden voyage into Sydney Harbour on Sunday.

The futuristic-looking ship, which can carry up to 100 passengers, is expected to revolutionise water transport and be a significant Australian export.

"Solar Sailor is a demonstration of the important elements associated with modern engineering = new renewable energy sources, sophisticated computer control systems, embedded IT and new materials," said Professor Archie Johnston, Dean of the Faculty of Engineering at the University of Technology (UTS) in Sydney and contributor to the project.

A series of panels attached to the roof of the craft allows it to harness energy from the sun and the wind. According to its makers "The heart of the concept is that the one structure is a hybrid energy collecting system, able to be used either for wind energy, or for solar energy, or preferably for both."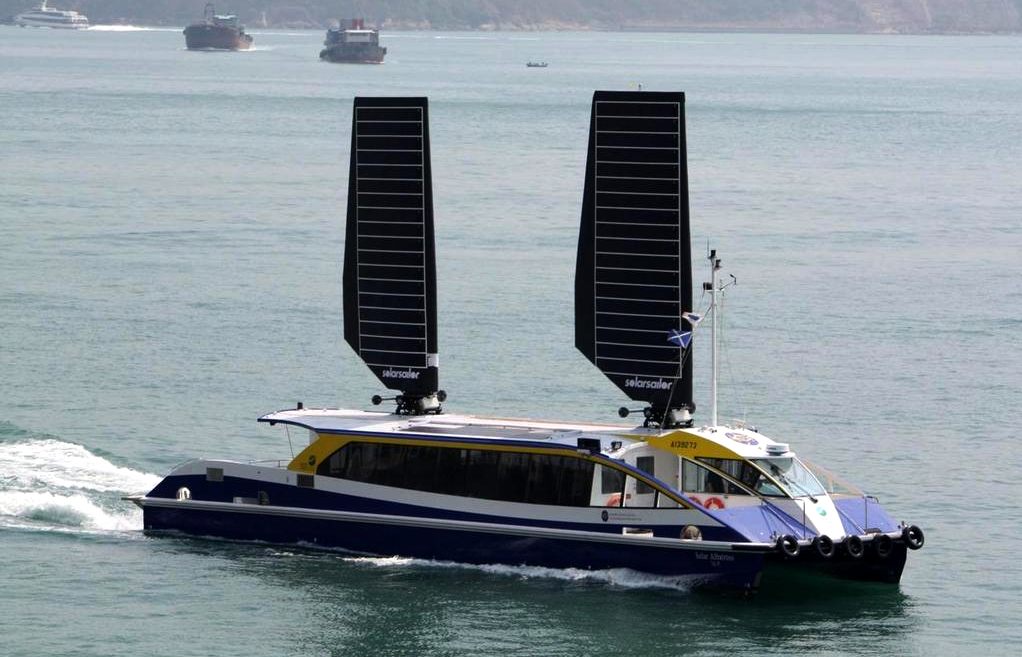 PASSENGER SERVICE - Solar Sailor was a chartered ferry operating in Sydney Harbour, carrying 100 passengers. A second ferry was built for the Shanghai World Expo, in association with Suntech Power, carrying 186 passengers. Four ferries operated in Hong Kong carrying 100 passengers each.
The stored power from Solar Sailor's solar panels is put to work by two 40 kilowatt electric motors designed and built at the University of Technology, Sydney.

The 'rare earth' permanent magnet brushless DC motors and their control system were made to measure for the Solar Sailor. The motors' chief asset is the combination of low weight and high efficiency. They have a motor efficiency of 96 per cent and weigh only 113kg = a quarter of the mass of an induction motor of equivalent power.

The vessel's power system relies also on an advanced system to harness wind energy. The solar motor moving the craft forward creates a 'relative wind' which when added to the 'true wind' creates 'apparent wind'. The makers claim their system can increase ordinary wind energy by 1.6.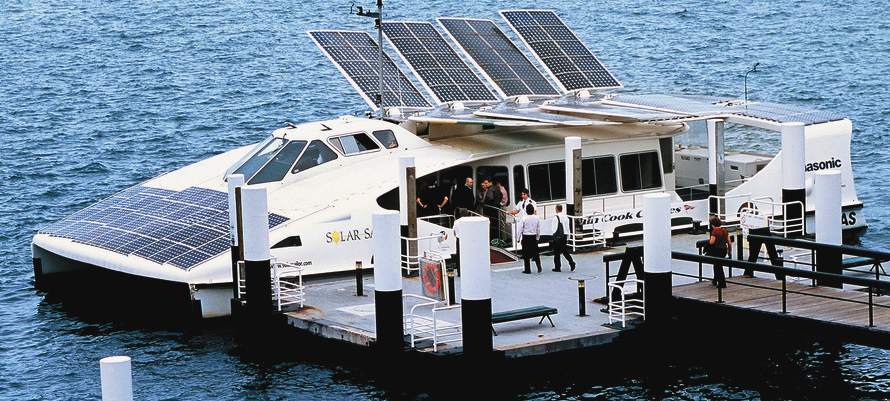 The Solar Sailor was designed and built in Australia, produces no water pollution and makes minimal noise.

The craft is the brainchild of New South Wales doctor, Robert Dane.

He has already received interest in the vessel from countries, including the United States, India, Germany, China and Japan.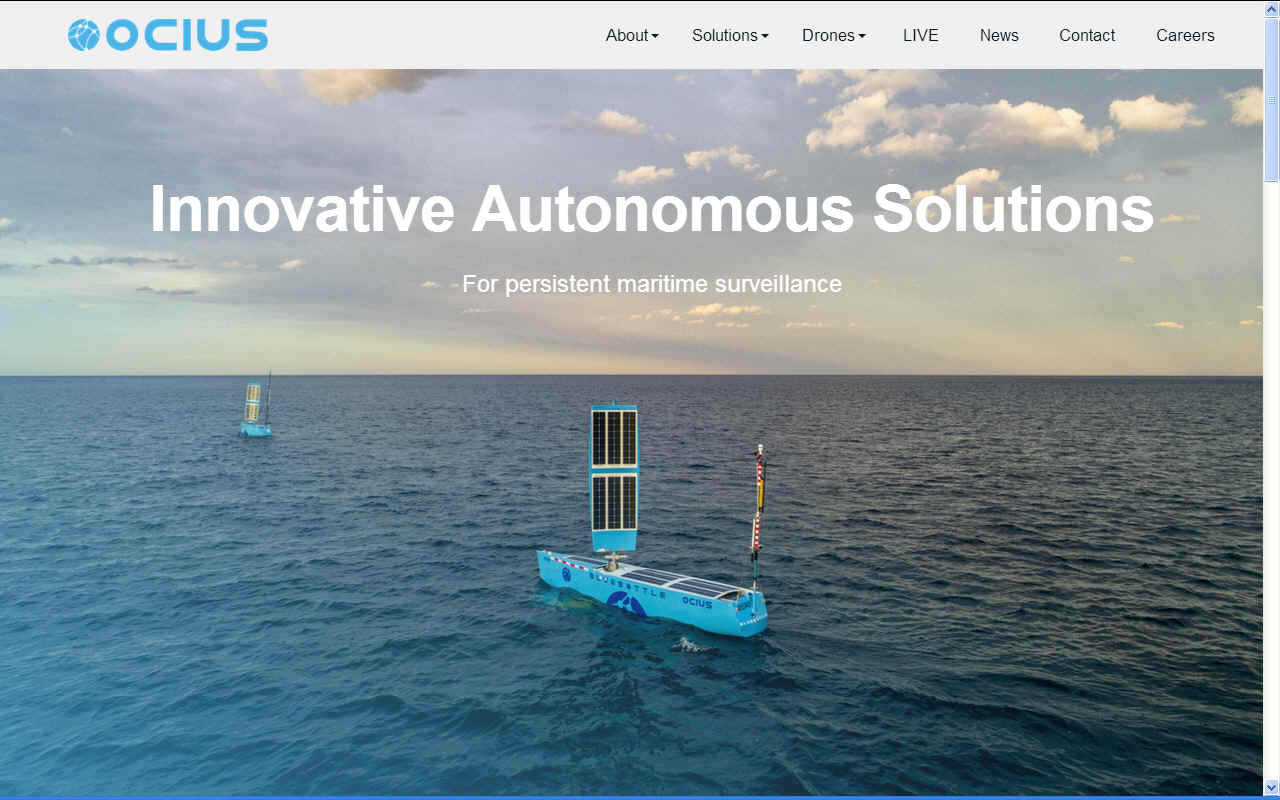 PERSISTENCE PAYS - Where the performance might not have been that sparkling in terms of propulsion at practical speeds, the formula is more than up to drone work.

SOLAR SAILOR FOR SALE 2014

Having been in operation for 18 months on the Lake and previously on Sydney Harbour for 10 years as a Captain Cook Cruise ship, this hybrid boat relies on both generator power and solar/wind energy. It uses LPG gas and can run for 20 hours, and under solar and wind power it can do 5 knots.

It won the Australian Design Award in 2001, among many other awards over its life time.

'Itís beautifully quiet and the dolphins love it,' says inventor and CEO of the company now called Ocius, Robert Dane. 'At the time, it was the largest solar powered boat in the world. It was ahead of its time using hybrid electricity.'

'We have built five of these boats, four for Hong Kong and one for Shanghai. They use 50% of the fuel of the boats they replaced and of course, the Hong Kong Jockey Club which runs them is very pleased with that.'

Time is running out. There have been several offers, both locally and overseas bidders, but it would be great to maintain the ongoing business.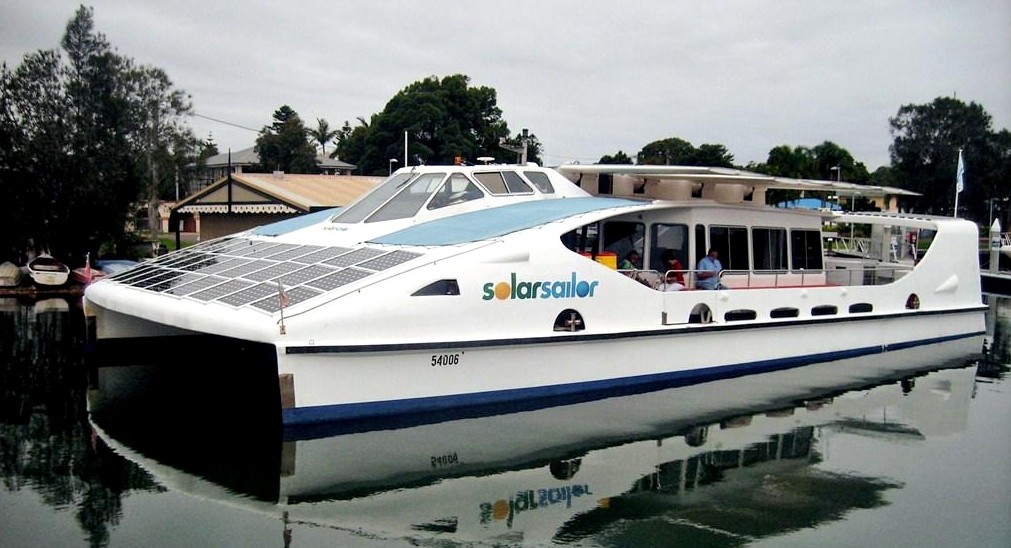 The Solar Sailor is currently doing events and cruises for special occasions. It has become very familiar, continuing the tradition of the boat on the Lake in the wake of the Wangi Queen, which operated for 35 years.'

Ocius is mostly focused on solar-wind-wave powered unmanned vessels, such as the Solar Sailor Blue Bottle developed in collaboration with Steber International. 'Unmanned drones are becoming increasingly popular, with the rising costs of fuel.' Bluebottles combine Steberís proven 50 years of quality rugged boatbuilding with SolarSailorís proven patented technology developed over 14 years.
OCIUS Technology is an Australian company that specialised in solar/hybrid powered ferries but now focuses on marine drone development.

The worldwide market for unmanned surface vessels is directly proportional to all the information and intelligence gathering requirements desired by authorities which includes oceanography, defence, border protection, hydrography, fisheries and oil and gas and security.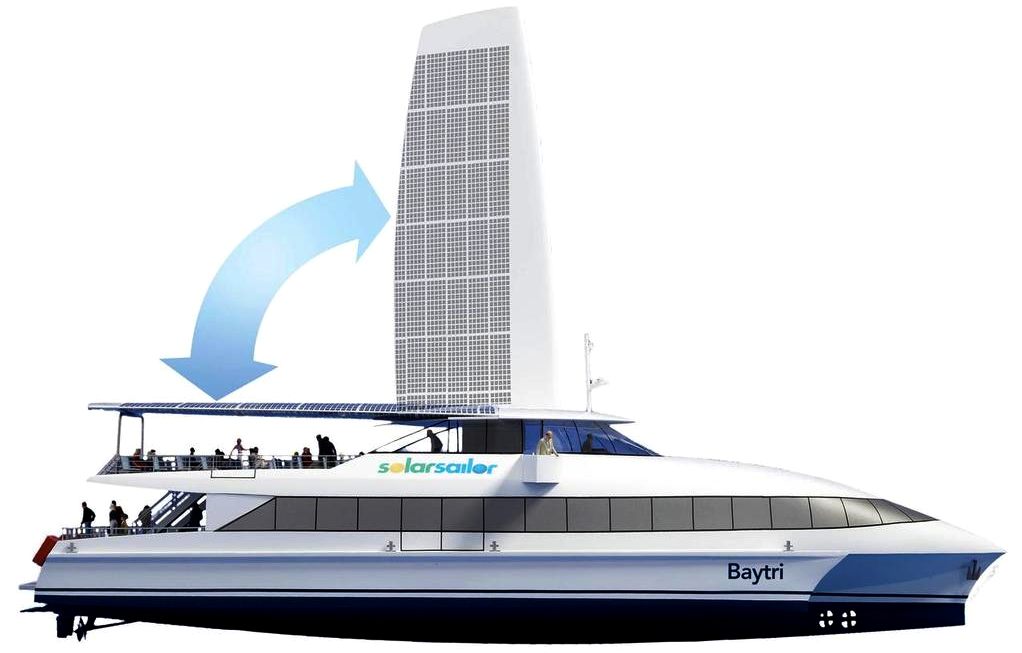 CONTACTS

22 King St
Building R13
UNSW Randwick Campus
Randwick NSW 2031
Mail PO Box 4304 Castlecrag 2068 NSW Australia

Phone: +61 2 9924 6400
Web: www.ocius.com.au
Email: contact@ocius.com.au
A - Z SAIL AND SOLAR ASSISTED BOATS & SHIPS
LINKS & REFERENCES
https://www.abc.net.au/science/articles/2000/06/26/143623.htm
https://www.sail-world.com/Australia/Buy-a-slice-of-Solar-Sailor-history/-125731
TRANSFERABLE TECHNOLOGY - The design of the Climate Change Challenger might be adapted to Cargo, Container, Cruise and Ferry designs, without needing to radically alter port facilities. The designs above are not representative of adaptations of the concept, but serve to illustrate the thinking of other design houses.
Please use our A-Z INDEX to navigate this site
AEGEAN - ADRIATIC SEA - ARCTIC OCEAN - ATLANTIC OCEAN - BALTIC SEA - BAY OF BENGAL - BERING SEA - CARIBBEAN SEA - CORAL SEA
EAST CHINA SEA - ENGLISH CHANNEL - GULF OF GUINEA - GULF OF MEXICO - INDIAN OCEAN - IONIAN - IRISH SEA - MEDITERRANEAN SEA
NORTH SEA - PACIFIC OCEAN - PERSIAN GULF - SEA OF JAPAN - SOUTH CHINA SEA - SOUTHERN OCEAN - TYRRHENIAN