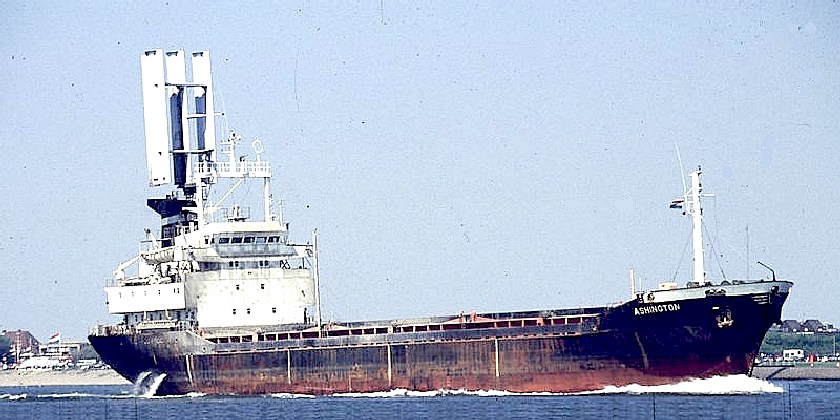 1987 CONVERSION - This cargo vessel started life as the Ashington, registered at London in 1979. Ten years later she was re-registered in the Isle of Man (1989). In 2004 she was renamed Fjord Pearl while registered in Nassau. Then again is 2007 a name change to JP Fox and registration at Bergen. Finally in 2008 she was registered in Panama and renamed Milano Star, before being retired in 2012. That is a thirty-three year working life. Not bad. We wonder if it was the fact that in 1987, when she was converted to use a Walker Wingsail, if it was the fuel advantage that made it worth extending her operating life.
Classification societies came into being as a means to provide assurances to investors in ocean transport services that the vessels they were operating or commissioning would be insurable, hence a viable business risk. There are several large registers for shipping, five of the most prominent databases being: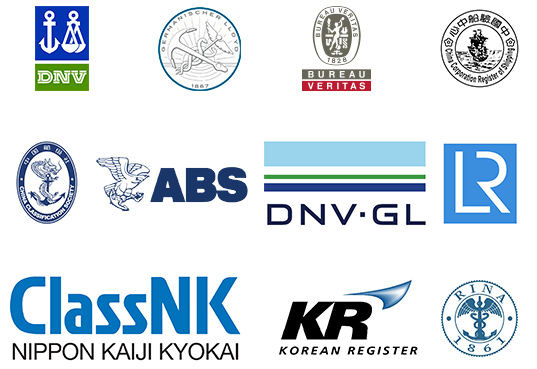 ABS American Bureau of Shipping
In general these organizations work with their clients to protect the assets that they are tasked to safeguard until end of life expectancy. This suggests that although many of the registers of shipping are forward thinking, there is potential for conflict of interest, where a radical shake up with unconventional solutions (known as disruptive technology) coming out of the woodwork, would be bound to upset forward investments in vessels that inherit the same general layout as those they are presently operating.
That is one reason why the Cleaner Ocean Foundation has proposed a scrappage scheme, with a fuel taxation quotient for forward research and tax advantages for those fleet operators who engage.
Those who do not engage would then suffer higher operating costs and fall behind when it comes to upgrading ships, making them uncompetitive and liable to fail as going concerns. Not wanting that, operators would be more likely to go for it to protect their shareholders.
The road ahead for wind and solar assisted propulsion technologies, or even 100% solar/wind combinations is not going to be easy. Far from it, the path is dotted with umpteen pitfalls such as:

- Conservative Mindsets
- Limited Finance
- Exclusion from Climate Change Agreements

Where shipping is largely conservative, these elements are the enemies of innovation. Things are changing with studies relating to battery ships and liquid hydrogen storage for fuel cells, but the pace is pitifully slow. Survival in the 21st century demands express adaptability.
Such entrenched outlooks mean that not many are ready to divert funds for research and development. And without finance, innovation is as good as dead.
Please note, research is a supremely dicey area, recognized as such by the likes of the European Commission is issuing a call for proposals, offering 100% funding. They know, as other Governments must be aware, of the need for large investments but limited guarantee if and when results may be forthcoming.
The real kicker is that the sloth of the industry has been moved up another notch with the IMO finally introducing binding targets and insistence on a change to cleaner fuels, to try and limit acid oceans and global warming.

On the matter of climate change agreements, the Paris Agreement did not dare include international shipping and aviation within its ambit – just like its predecessor agreements at Kyoto and Copenhagen.
The fact is that shipping operators need advice from their assurance providers if they are to be able to reliably invest in ships that will meet the new clean targets for 2030 - 2050, heading toward zero carbon shipping in 2100. Fortunately, at least two of the classification societies are looking at wind powered shipping.

SUSTAINABLE CONTAINER SHIPS - This 50m concept vessel may be doubled and quadrupled without too much trouble. You'd need to up-scale by a factor of 8 to match the 400 meter ships that operate today to carry 960 standard containers. See our top ten list below. That is nowhere near the capacity of a heavy bunker fueled giant, but it is a formula for eventual 100% zero carbon transportation that is theoretically workable. We believe that such a system could eventually replace bunker fuels and eliminate the need for liquid fuels that may be potentially dangerous.
CARGO CONTENDERS A list of the top ten fossil fueled leaders that could benefit from solar and wind assistance. You may notice from the specification of these vessels that we are in the right ballpark for power to cargo ratio when comparing DWT to installed engine power:
| | | | | | |
| --- | --- | --- | --- | --- | --- |
| RANKED | SHIP NAME | No. BUILT | LOA | | KW/TON/DWT |
| - | - | - | - | - | - |
| 1. | | 5 | 399.9 | 23,756 | 0.379 (0.50hp) |
| 2. | | 5 | 399.9 | 21,413 | 0.316 (0.42hp) |
| 3. | | 3 | 400.0 | 21,237 | N/A |
| 4. | | 2 | 400.0 | 20,954 | 0.368 (0.49hp) |
| 5. | | 10 | 399.0 | 20,568 | 0.3 (0.4hp) |
| 6. | | 10 | 400.0 | 20,388 | N/A |
| 7. | | 1 | 399.0 | 20,182 | N/A |
| 8. | | 3 | 400.0 | 20,170 | 0.427 (0.57hp) |
| 9. | | 4 | 399.8 | 20,119 | N/A |
| 10. | | 5 | 400.0 | 19,870 | N/A |
| - | - | - | - | - | - |
| 00 (Proto) | | - | 50.0 | 6 | 0.37 (0.49hp) |
The concept of using wind power with conventional steam and diesel engines as a hybrid propulsion system for ships has been with us since the early paddle steamers. Before that the Romans used sails and slaves to row, so assisting the speed of a sailing ship with muscle power. With diesel being such a polluter, a return to sailing ships of a kind that is not dependent on human muscle is a good thing, where that would not be economical or environmentally friendly from the food consumed.
CROSS CHANNEL FERRY OPERATORS & ISLAND SERVICES
DFDS -
A - Z SAIL AND SOLAR ASSISTED BOATS & SHIPS
A-Z INDEX OF H2 POWERED FUEL CELL SHIPS

BARILLEC MARINE
CLASSIFICATION LINKS
ABS American Bureau of Shipping
LINKS & REFERENCES
http://
TRANSFERABLE TECHNOLOGY - The design of the Climate Change Challenger

s might be adapted to Cargo, Container, Cruise and Ferry designs, without needing to radically alter port facilities. The designs above are not representative of adaptations of the concept, but serve to illustrate the thinking of other design houses.

Please use our A-Z INDEX to navigate this site
AEGEAN - ADRIATIC SEA - ARCTIC OCEAN - ATLANTIC OCEAN - BALTIC SEA - BAY OF BENGAL - BERING SEA - CARIBBEAN SEA - CORAL SEA
EAST CHINA SEA - ENGLISH CHANNEL - GULF OF GUINEA - GULF OF MEXICO - INDIAN OCEAN - IONIAN - IRISH SEA - MEDITERRANEAN SEA
NORTH SEA - PACIFIC OCEAN - PERSIAN GULF - SEA OF JAPAN - SOUTH CHINA SEA - SOUTHERN OCEAN - TYRRHENIAN